2008 - 2012 NEWS
1st June 2013
We have now made a new page for our current news 2013 so hopefully it will work and we shall close this "current news".
25th March 2013
Another update and to report on the loss of our oldest pony, Meg of Achnacarry who was put to sleep on 31st December 2012. Unfortunately Meg was becoming so stiff that sometimes she had great difficulty in getting up after she had been lying down. We took the very difficult decision to have her put to sleep....not easy when I bred her. She was with us all her life and won many many prizes in her lifetime as well as giving a lot of pleasure to us all as a ridden pony. She was one in a million. She was 28 years old and was by Glenaylmer and out of Julie of Lundie. As a 3 year old she won Best Bred by Exhibitor at The Royal Highland Show and was also a Champion many times over. She only ever bred two foals both of which were fillies and are still alive and much loved. She was Rannoch's constant companion and is greatly missed by Tim and I.
A Young Meg at Stirling Show with Sandy Gray judging.
Meg
Meg at the age of 26 years.
19th January 2013
Once again a start of a New Year. We mean to sort out our pages a bit and archive 2012 etc news and hopefully 2013 will have a page on its own. I dont know how to do it and hope to persuade Tim that he has the time!!
In 2012 we lost three of our senior citizens. The first one to leave us was Kirsty of Orangefield at the grand old age of 24 years. It was a shock at the time but she went very peacefully in the field. I had been at Kinross Show with the mare and foal and as our car had broken down our neighbour had kindly towed us there leaving Tim behind gardening. He had seen her lying down but thought nothing of it but when he noticed her still there an hour or so after he went down to have a look and she was dead. Poor Kirsty. She was an old sweetie and was very kind to old Meg and kept her company. However she had a very long and happy retirement having bred a few foals for her breeder Bert Macrae our dear friend who bred our senior stallion, Tarka of Orangefield. Here are a couple of photos of Kirsty.
Kirsty and some little fans..
Kirsty showing off her beautiful long mane.
She also had a bent leg due to her being hit by a car in her youth. It wasn't broken but she had a large bump on it.
The next pony that we lost was Xanthe of Whitefield whom I have written a wee bit about lower down. Xanthe was only 23 years old and unfortunately she had colic which led to a twisted gut and she was in such pain that we had no option but to have her put to sleep. She was one of these ponies that gave everyone such pleasure from beginning to end and was a real character. I did a swop for her when she was only 7 months old. George Baird Senior took a liking to a yearling that I had bred.....Caitlin of Achnacarry. She was out of Mollaig of Achnacarry and by Sergeant Major of Whitefield. Her dam, Ella of Whitefield traced back to the old Department bloodlines and Strathnaver was one of the stallions which Mr Baird was keen to have a line to I think. Anyway we swopped and I had the great pleasure of owning Xanthe for all these years. She did very well in the show ring both In Hand and under saddle especially when Tim came along!! She won several Championships and was Reserve in The St Johns Wells prestigeous competition at The Royal Highland Show. She was also my western pony and I had great fun on her. She taught several young people to ride and only had one foal which we regretted but she took stress laminitis a couple of times whilst at stud so we gave that idea up. However she did breed a lovely colt foal who was 2nd prize yearling colt at The Royal Highland Show and subsequently was exported to Wyoming USA. Like Kirsty we miss her so much. We have more photos of her as we had her from a foal. There are several on my Facebook Album but here are a few.
Xanthe Age 22 years.
9th December 2012.
We are almost up to date. Just need to report on the Winter Fair and Forfar Foal Show. Unfortunately because of Xanthe we were unable to take ponies to the Winter Fair but we took Mischief and Piper our foal and yearling to Forfar where Mischief was Reserve Foal Champion and Sandpiper excelled himself by coming last in his class!!!! On the plus side both travelled very well and loaded like a couple of Pro's!! Photos will follow but since our website had its virus and we now have a new webmaster to help us he tidied up all our files and we seem to have lost our favourite one for photos so at the moment have no idea how to downsize our pictures! Having said that I am just going to see if I can put some on photobucket as that is another way of putting them on here and it actually saves space!
Achnacarry Mischief Maker
Mischief has been well handled and he behaved so well at the foal show. He needs to learn to trot up better but he has such a lovely temperament I am really pleased with him.
Mischief again
Achnacarry Sandpiper our yearling soon to be two years old.

Piper is a lovely boy again well handled and boxes well and is very good in every way. Can be a little impatient which showed in the ring at the recent foal show but he walked away and trotted back well. He is going to be a good size when he finishes growing and will make a good ridden pony for someone.
Achnacarry Sandpiper
Piper again

Two highlights of our calander this year was when Euan took the new Rector of St Andrews University into the quadrangle.

The other highlight for me was when I was invited to join the Common Ride of the Edinburgh marches. It wasn't without incident but I thoroughly enjoyed it and lived to tell the tail!!! First......Euan and Alistair.

It all began with a phone call from Holly Patrick a final year student and their representative of St Andrews University. She had a request and having first approached Martin Taylor of Strathkinness to see if he could help when he didn't have a ridden pony he pointed her in our direction! I wasn't at all sure if we could or wanted to help but said to leave it with me whilst I had a think. We had at that time four ridden ponies but because Alistair is fairly tall we decided that Euan our young gelding might fit the bill.

Euan duly went to St Andrews accompanied by Holly's mare, Flora of Inverdarroch bred by Bruce Haliburton our friend who owns Echo of Achnacarry. The ponies took it all in their stride and Euan excelled himself and carried Alistair without any problem although at times he was on his toes!! It was a great experience and one that Tim and I will never forget........... nor Euan!!!!!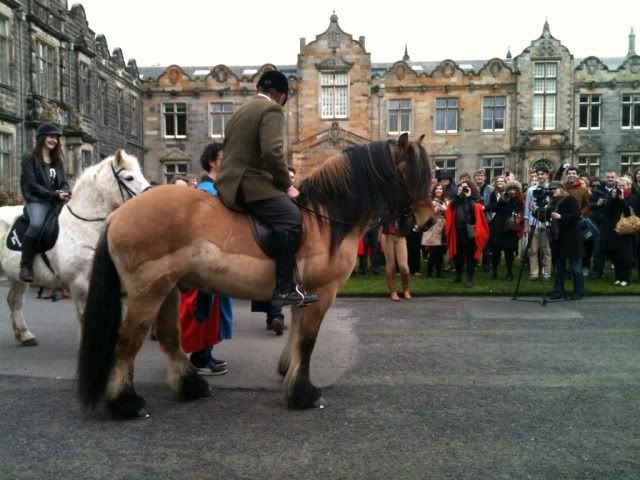 Alistair & Euan in the Quadrangle of St Salvators.
Tim & Alistair in the Principals garden....practising!!
Posing..Alistair on Euan & Student on Flora (Student's first time on a pony!

Next was the riding of Edinburgh Marches!!! Now this WAS quite an experience!!! It was all thanks to Alison Fyfe who knew the secretary of the Edinburgh March rides and through her approximately 10 Highland ponies were invited to attend the ceremony. We were told better to join the ride after lunch as the going would be less strenuous and there would only be probably one long canter then we would ride through Holyrood park and up the Royal Mile which appealed to myself and the others. Thankfully I chose to ride little Rowan instead of my usual ride at home, Euan. Jo Jack and her pony joined us on the journey through as Jo had recently undergone quite a serious leg operation and thought it better to travel with someone rather than taking herself and her pony through to Edinburgh.

When we arrived at the Drum at the south end of Edinburgh the morning ride soon arrived and it was quite a spectacle watching them all arrive. Amongst them was the only Highland Pony we could see....Sharian Arina belonging and ridden by Donna Pringle. They had had a ball and were looking forward to joining us in the afternoon. We soon set off after a few photographs following the "big" horses as we were told that if we stayed nearer the end of the ride it would be better and the going would be slower?!! We rode down through the first stubble field and away in front we could see the horses galloping up the field and on through to the next field. It is quite a sight watching approximately 300 horses and ponies all out together. The day was dry and the going was not too bad but I must admit to being rather apprehensive when I saw them all galloping up front as I am not in my first youth and did NOT want to fall off! However when we reached the bottom of the first field we were told by the Marshalls to keep up and I thought to myself, "If you can't beat them........ then join them. I let Rowan go and she took the bit between her teeth and galloped as fast as her little legs could go!!! Even if I had wanted to pull her up I couldn't have..........I had absolutely no control and just hung onto the reins and sat there! Unfortunately as we were galloping up the field I saw a rider go down and it was Gilean Docherty one of our Highland party. Poor Gilean really hit the ground hard and I knew she had hurt herself badly. Later on we discovered she had 6 broken ribs, 2 cracked ones on top of that a punctured lung and her fibula broken in two or three places. That certainly sobered us up a bit but once again we were hurried on by the Marshalls and cantered on to catch up with the rest of the ride. After that Rowan was much more sedate but willingly carried on trotting to keep up. We went through another few fields then down through a lane and through what looked like a building site. The ponies didnt turn a hair! We rode through a housing estate where the occupants were out in force cheering us on. From there we entered Holyrood Park which was a great experience. People lined each side of the road cheering us on. All the ponies rose to the occasion and riding up The Royal Mile was fabulous. Something I shall probably never do again. Once again crowds lined both sides and it was great fun riding and talking to everyone as we often had to stop to allow those in front to ride along. It was part of history and once again I shall never forget it. Tim had gone ahead with Jane McNaught to park the car and trailer and suddenly I saw them in the crowds. Rowan thoroughly enjoyed all the attention as did all the horses and ponies there. The flag ceromony took place at the top of The Royal Mile and all too soon it was all over. Hopefully I shall add a few photos below to mark the occasion.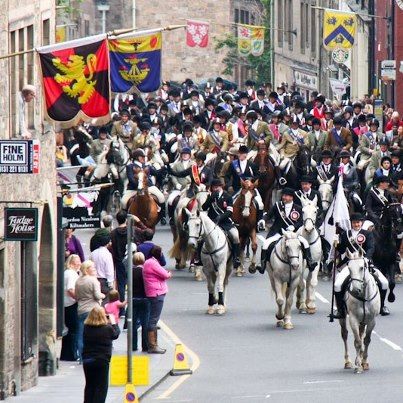 Riding up The Royal Mile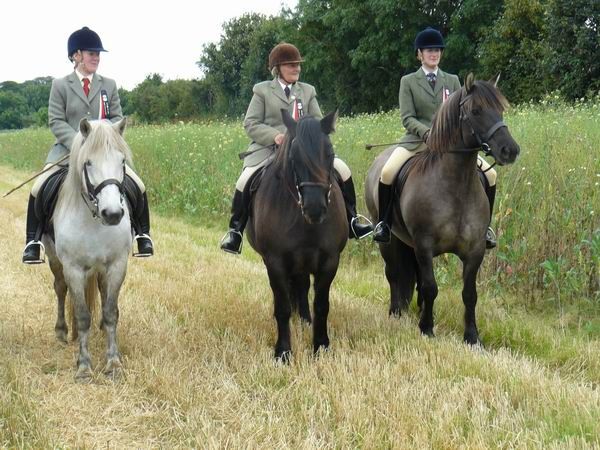 Donna Me & Jo
Through Rowan's ears
Rowan & I Edinburgh Ride
Anne on Honey Edinburgh March Ride
Some of the crowd
Back view of me & others
Everyones favourite photo. Rowan & I just behind
8th December 2012.
Time is marching on and I must update before the end of the year. We actually didnt show as much as in previous years due to the wet weather and shows being cancelled. However we have had a few good results when we have taken the ponies out. Little Rowan was 1st prize yeld mare in the non-ridden yeld mare class at Blair Atholl Highland Pony Show delighting Tim and I then at the Central Scotland Show the following week she again was 1st prize yeld mare this time in the ridden yeld mare class as Tim was riding her in the Senior Jockeys class later on in the day! Since these shows we have had the usual Foal shows but unfortunately when we should have been at the Winter Fair with this year's foal and the yearling poor Xanthe took ill with a very bad colic which was really twisted gut and unfortunately had to be put to sleep. Tim and I were absolutely devastated as she has been one of our best ponies. She was always such a comfortable and willing ridden pony that we only had one foal from her called Zeus that we sold to Wyoming as a yearling colt. He was 2nd prize colt at the Highland Show. Xanthe also was Reserve in the St John Wells at the Highland Show with Iona o' Kinoull owned at that time by Willie & Jean Ralston. She was Highland Pony Champion at the NPS show when it was still held in Alloa with Midge as Reserve and in these days there were large classes. She went on to be Reserve Overall in the other breeds. A great day for us. She did well at the Highland Show in hand and although we tried our hand there in the ridden classes she just missed out on the rosettes but was Champion Ridden pony at Stirling Show on her first outing as a ridden pony thus de-novicing herself!! She was also a brilliant western pony and I had great fun with her when I first started riding western. Of course we musn't forget when she performed in the local Nativity Plays at Lochieheads Farm each year. She surpassed herself walking onto stage carrying the Angel Gabriel and not turning a hair when she spotted the audience! Her talents were endless. She taught several young people to ride and was nanny to countless foals as well as a friend to all.
A younger Tim and Xanthe winning at Stirling Show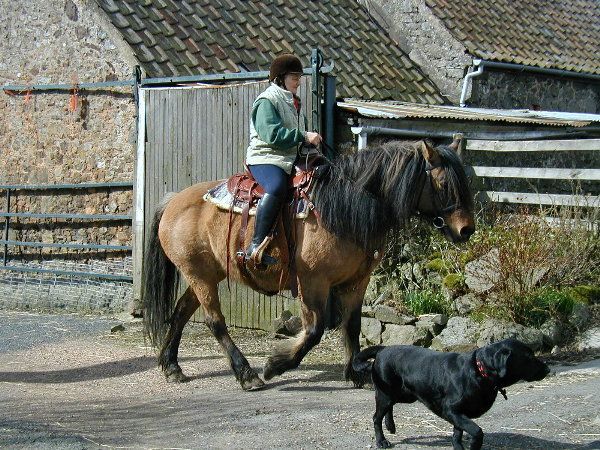 Myself riding Xanthe with Hope our previous Labrador
29th November 2012.
Our web site is now free from virus' and when I get a minute I will update it.
20th September 2012.
Back again!!. What else? We had the Breed Show and I seemed to be so busy helping Susie this year it passed me by more or less! However the turnout was pretty good considering the date had to be changed due to our horrible weather and the ground conditions. Here a few pics taken by Tim.
Alison McLeod
Katherine Allan & filly by Rannoch
Working Harness
Jubilee of Meggernie by Rannoch
Julie with Meggernie mare & foal
Mares Class

For ourselves our first show was the Border Highlands Show which was moved to a different venue this year again due to the weather. Everything was indoors and again it went smoothly. We took Euan whom we showed in hand and under saddle ridden by Chris Grant to whom we are eternally greatful for helping us out. We also took our yearling gelding Achnacarry Sandpiper who was 2nd in his class. Euan didnt do anything in hand and was 5th if I remember rightly under saddle.

Think our next show was probably Perth to which we took Fionnalaigh and Sandpiper. Fionnalaigh was thrown out with the rubbish!!!! Sandpiper stood alone in his class so that wasnt too difficult! At least it gave him the experience of being washed, loaded and shown and he behaved reasonably well. Fionnalaigh is in foal so perhaps was too fat for the Judge! Next show was Kinross which we always support and our Judge was Willie Allan from Freuchie.
We decided to take the mare & foal although we had entered a few. Again good practice for them and in the morning we managed to load them with not too much bother helped by our kind neighbour who took us to the show since our car was in the garage having a new clutch fitted. That is another story! Unfortunately we were the only mare and foal there but we managed to behave ourselves and came home with two trophies. After that our next show was Blair Atholl a show that we all love and again although I had entered a few we ended up taking only little Rowan. I had washed Fionnalaigh also but the horror decided that Perth Show was obviously enough for her and refused point blank to load! Anyway Rowan saved the day by standing at the top of the non-ridden yeld mares. She is just a little star....she just needs to give us a little filly foal to keep her bloodline going.

The following day I was on the Highland Pony stand all day along with a few helpers. We had a good day which was pretty busy and we also had a good spot where we could see the ring from. Our next and last show for us was Central Scotland Show where we managed to take Rowan and also Rosie & Mischief. Our good friends, John and Lynne Alexander who have Robbie took Rowan for us allowing us to take the mare and foal without too much bother. We had a great day there. Rowan once again headed her class, this time the ridden yeld mare class as Tim was riding her in the Senior Jockey class. Rosie & Mischief were 2nd in their class. It was a great relaxed show as always, well organised and a nice ending to a frustrating year.
Julie showing Rosie for us.
Achnacarry Mischief
Rowan
Rowan & Tim
18th September 2012.

Back again. Of course we had dog shows also and they will be reported on Tiffanys Page.

I think the next news we heard was from our new friend in Missouri USA, Jennifer who bought our 3 year old filly, Rosealie of Achnacarry a full sister to both Rannoch and Rosanna. She was also in foal to Concorde and the good news was that she had foaled safely and had a FILLY! into the bargain!! She looks a very strong filly and Jennifer was well pleased with her especially when her other mare, Annie Oakley of Airmont also produced a filly for her by Lieutenant of Whitefield. The other exciting news is that Jennifer has just negotiated the purchase of a yearling colt from Scotland and he should be arriving towards the end of the year in the States. Jennifer tells me that they have a terrible drought and the ponies were finding it hard to cope with the heat and had to be hosed down every so often. Thankfully that spell of hot weather has passed them by now.
Rosealie's foal on the right.

We had our usual annual ride for Grass Sickness and we had a very good turnout as always and raised I think from memory around £420. The weather was again very kind to us and we had no mishaps....always a relief and a great time was had by all as far as I know!! All things being equal we shall have it again in 2013. Yikes!!! Where have the years gone?!!
Some of the ride leaving
Carol Mason & daughter
Tim on Skye
Half way picnic!
View of Perthshire & beyond
View of the tay towards Dundee

Well as everyone knows our British summer was practically non existent and we actually didnt go to a single show except to watch until after The Royal Highland Show where I was the Umpire for Highland Ponies. Tim and I thoroughly enjoyed ourselves staying overnight in the Dakota Hotel and catching up with old friends. The following day luckily was one of the dry ones and the turnout of ponies was truly magnificent.

Mary McCall-Smith was judging the Males and Willie Nelson the females. Eventually both had their Champions. Male Champion was the young 2 year old colt Glenbanchor Gilliebrighde and Reserve Male was the mature gelding from Mrs BJ Malim shown by Julie Voules, Creag Chrannach of Meggernie. Female Champion was Charlie McQuattie's brood mare, Maggie Rose of Strathmore and Reserve Champion was also a brood mare from Messrs GM Baird, Gaynor of Whitefield. It was down to the two judges to battle it out but they couln't agree on the Supreme Champion.......That's where I come in!!! I chose the brood mare who looked the part and was a very nice stamp of a pony having all the characteristics of a good Highland Pony.

17th September 2012.

Here I am again and I have decided that it is time to start on 2012! Our first official show of the year was the Glasgow Stallion to which we took our weaned foal Achnacarry Sandpiper and our rising three year old filly, Siusaidh of Achnacarry. A friend showed them for us and the first thing that happened was our poor little Sandpiper was jumped upon by another yearling colt and knocked to the ground. He and David, his handler got quite a shock and probably put both of them off. They weren't placed but the other colt was! Enough said! Unfortunately Siusaidh was lame....perhaps due to an impending abscess as she had one for a few weeks after that. Not one of our better shows! Thanks goes to David who came down all the way from Inverness to show them for us.
Siusaidh of Achnacarry
Achnacarry Sandpiper

Actually before that I had a surprise phone call from the Secretary of the Royal Northern Show asking me if I would like to judge the Highland Ponies there. This was thanks to Mary McCall- Smith who declined the invitation as she was judging the Male Highland Ponies at The Royal Highland Show. I too was judging there but only in the capacity of Umpire and I checked with the "powers that be" there and was given the go ahead for that show only. Tim and I went up the night before and enjoyed a lovely evening with friends before the next day's judging. I had good entries of quality ponies in front of me and chose for my Champion, John Reid's young colt, Glenbanchor Gillebrighde by Moss-side Quercus Rubra out of Glenbanchor Lady Fiona.

Reserve was Frank and Morven Lawson's filly, Firefly 11 of Craigieloch. I also had the pleasure of being introduced to HRH Princess Anne. This is the second time I have been introduced to her and always puts everyone at ease.
Glenbanchor Gillebrighde
Firefly 11 of Craigieloch
Myself sneaking up!!
HRH The Princess Anne I was in there!!!!

Our next important event was the birth of our one and only foal on the 4th April. We knew Rosanna (Rosie) was due soon and Tim was due to go down to London for a re-union luncheon. The night before he left it snowed quite heavily and I decided I had better get the stable ready for Rosie to foal inside. That night Rosie looked as if she was going to foal soon and when I checked her the following morning she was lying down and I reckoned she was about to foal. I went back inside, made myself a cup of tea and when I eventually went back out again there was a little dark wet shape beside her!! She had had a very nice colt foal by Concorde of Whitefield and all was well. He is now 5 months, has been microchipped tetanus jagged and had his feet pared and is all grown up!!!! He is a lovely cream dun and has such a good temperament. His mother is in foal again to Concorde and this time we are hoping for a filly........naturally!! Rosie's sister Ellie (Rosealie of Achnacarry) is now in Missouri and she also was in foal to Concorde and she gave birth a few weeks later and produced a very strong filly foal, a full sister to our boy. Again an easy birth which says a lot for Ellie who had travelled half way across the world then foaled so easily. They are amazing animals.
Achnacarry Mischief Just born.
Achnacarry Mischief 4 months old Kinross Show.
Rosanna of Achnacarry & Achnacarry Mischief.

28th August 2012.

Need to updater this asap as we have had a hacker....so watch this space!

14th February 2012.

Once again trying to reach the end of the year 2011!! Our next venue was the Border Highlands Annual Show. We were really looking forward to it as we hadn't been to it for a few years and this year it was at a different venue held at Kirkton Manor the home of Graham and Sheila Irvine. It was a lovely, friendly show with classes for In Hand...Mare, Stallion/Gelding, Colt, filly or gelding youngstock. A yearling class, Ridden Novice class which had to be divided into two due to the numbers and it was especially good for us as Euan was making his debute into Novice Ridden and he was 4th out of 6 entries so we were well pleased. He was ridden by Chris Grant and thanks must go to Christopher for riding him so well. There was a Ridden Open then after the In Hand Championship and Ridden one there were special awards for Best veteran Pony as well as Most Experienced Rider. There also is a youngstock Trophy so lots of reasons for attending this super little show. Other classes consisted of Best Junior Rider, 16 years and under.,Dressage, Style & Performance (Euan was 6th in this!) Show Jumping, Handy Pony and Junior Handy Pony. Anyone reading this should make up their minds to attend this show in 2012....well worth it.

Here are a few photographs from the day.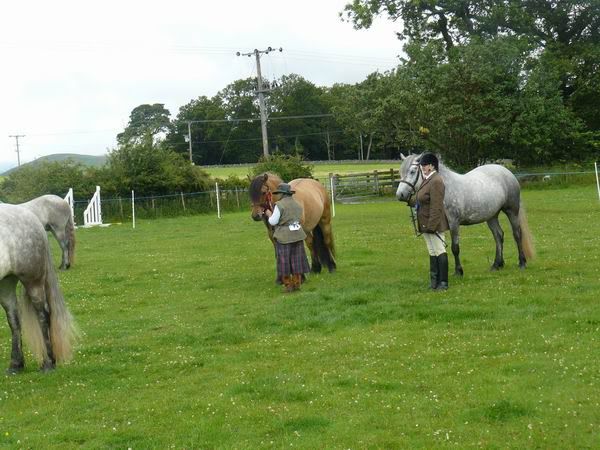 Euan & I in hand.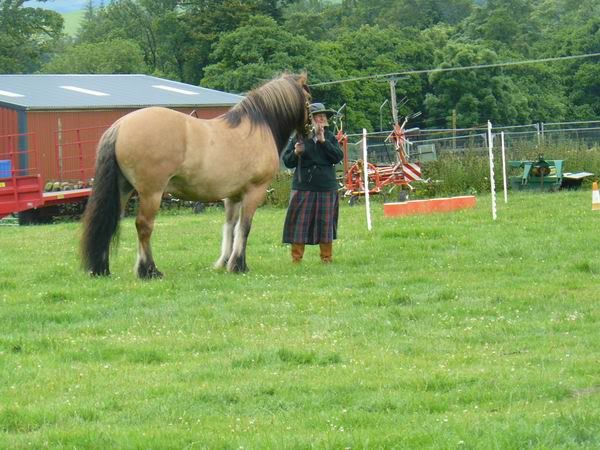 Euan Border Highlands Show
Chris & Euan.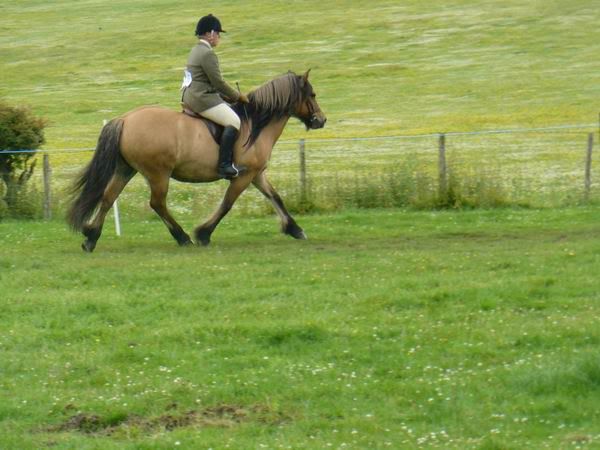 Chris & Euan Novice Ridden.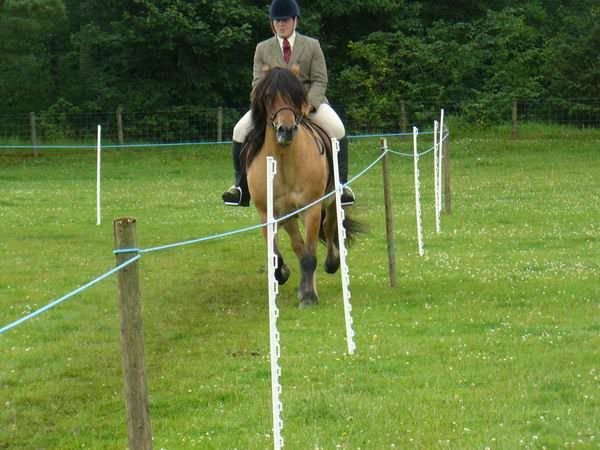 Chris & Euan.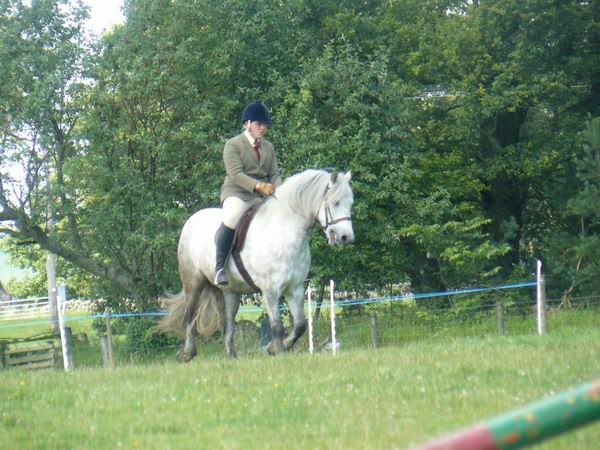 Chris & Dunedin Finale.
In Hand Champion was : Dunedin Finale and Reserve In Hand was : Glenmuir Rosamund.
Ridden Champion was : Dunedin Finale and Reserve was: Jaune of Ednam House.
Next we took Rosealie, our three year old to Braco Show to get her out and about before her long journey to the States in the Autumn. The entries were perhaps not so full as previous shows but that seems to be the trend now a days as people don't have the same amount of cash as they used to have due to steep rises in diesel etc. However it was an enjoyable show and here are a few pictures from the day.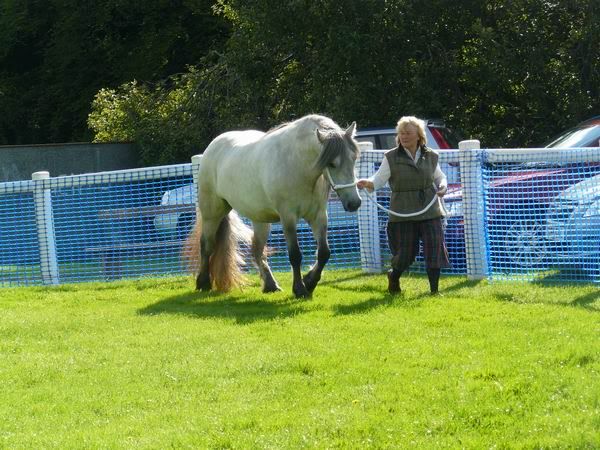 Rosealie at Braco.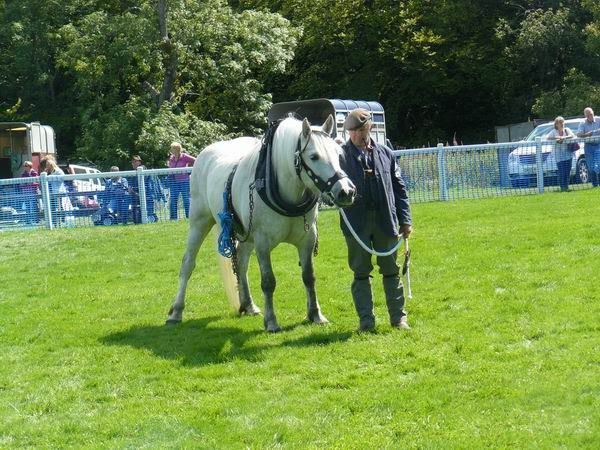 Ross Yeaman with the winner of the workers class.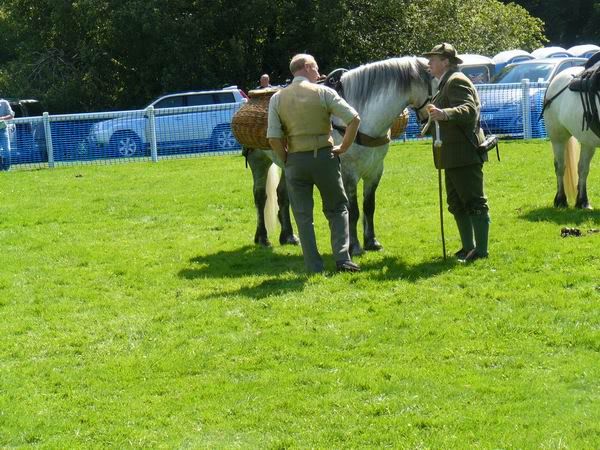 Another working harness pony.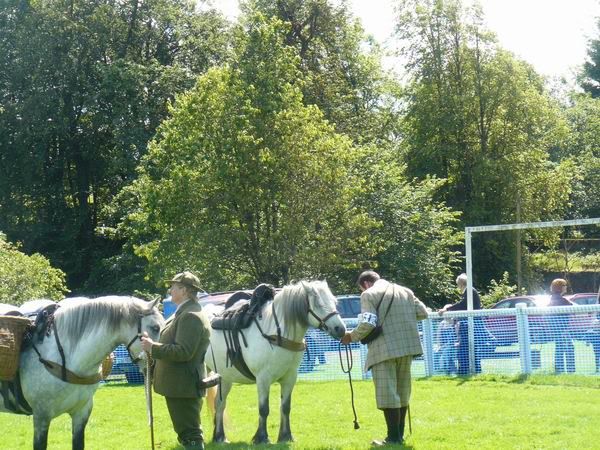 Miranda Kari of Moulzie.

Our next adventure was Banchory Show! I was judging there and we had a lovely drive up and stayed in a very nice B&B provided by the show.

We met up with Lesley McNaughton-Wells who was judging the Show Ponies and Hunter classes. We had a relaxing evening at the Hotel where Lesley was staying. The weather on the day of the show kept dry and I had a good turn out of ponies there. The senior classes were well filled and the youngsters classes weren't too bad either. The ridden class was very well filled and I enjoyed judging it also. We were very well looked after by the show committee and all too soon we had to take our leave of this popular show. Below are a few photos from the day.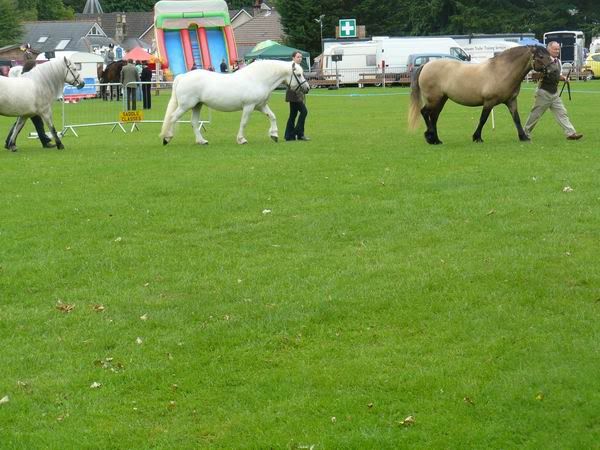 Yeld Mare class.
A two year old.
Yearling
A gelding.
Georgina Chalmers-Gray on "Harry" Ridden Champion.
Ridden Line Up.
Rest of Ridden line up.
Myself and the some of the other Judges judging the Supreme of the Show.
Highland Champion Sheamus of Inverdarroch in line up.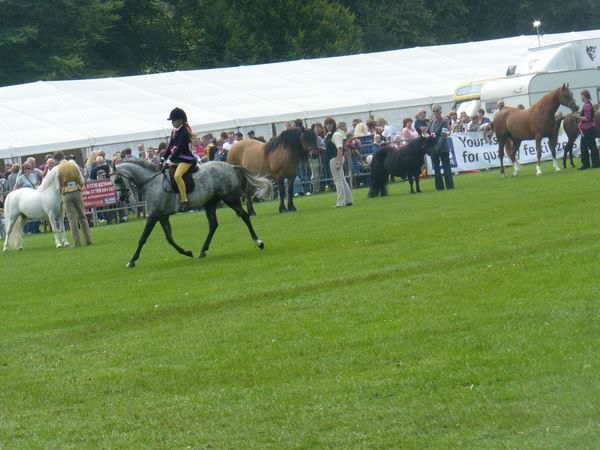 Supreme Champion of Banchory Show.

22nd January 2012.

Back again and we have now reached the Highland Pony Society Breed Show.

The weather was fairly kind to us and the atmosphere at the show was good. There were a lot of ponies entered and the general quality was very good and the Judges were kept busy all day long. It was a long day and we didnt get home until around 7pm. We only took Rosanna (Rosie) with us and it wasn't her day.....perhaps rather fat....but she does have an excuse as she is hopefully in foal for this year, 2012. For the first time in a few years we didn't have a ridden pony entered and really missed it. The In Hand Champion was Thorn Holly owned by Morven Campbell and Westray of Altnacailleach was Reserve Champion in hand. Trowan Moulin was Ridden Champion. Here are a few photos of the day...we have hundreds but not enough space on here to put them on.!!!
Myself & Rosanna of Achnacarry (By Tarka of Orangefield x Midge of Achnacarry)
Alison MacLeod & Isla of Roisbheinn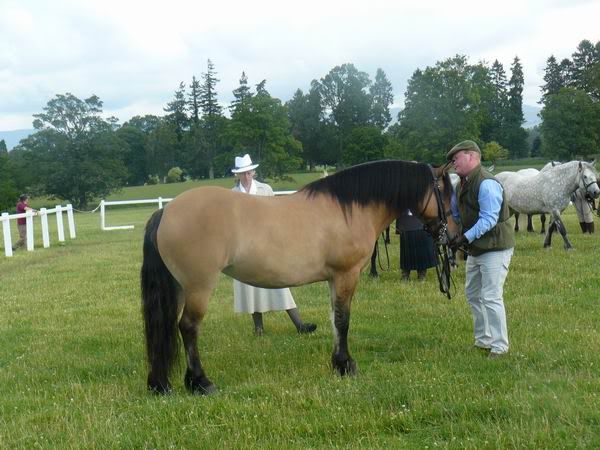 Dunedin Mountain Rose.
Belivat Muldoanich
Maren of Millfield (By Rannoch of Achnacarry.
Westray of Alltnacailleach.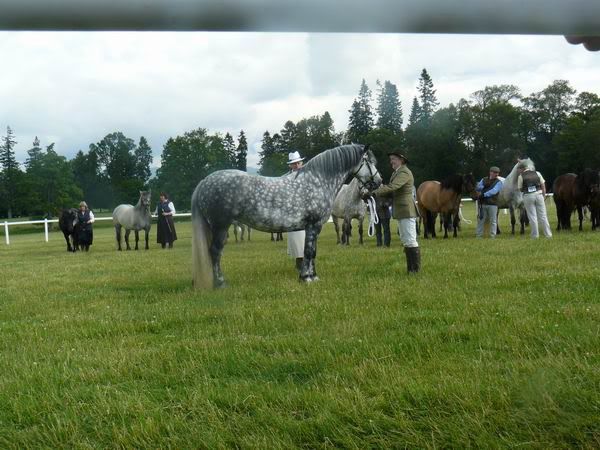 Trailtrow Teaninich.
Roibeart Buidhe of Achnacarry (Robbie) out of Midge of Achnacarry
And lastly a scene from one of the line ups.

We had more shows throughout the year, both dog and pony shows but of course at home we have the rest who don't go out to shows , either because they are having a year off, or they are getting older or they are young and haven't had enough mileage on their belts yet. Also in the summer we have some visiting mares in to Rannoch and that is always a busy time trying to keep them all happy!!

We also try to hack out a few times during the week with Euan and Skye who is now 20years young! Here are a few photos of ponies at home.
Rosie & Euan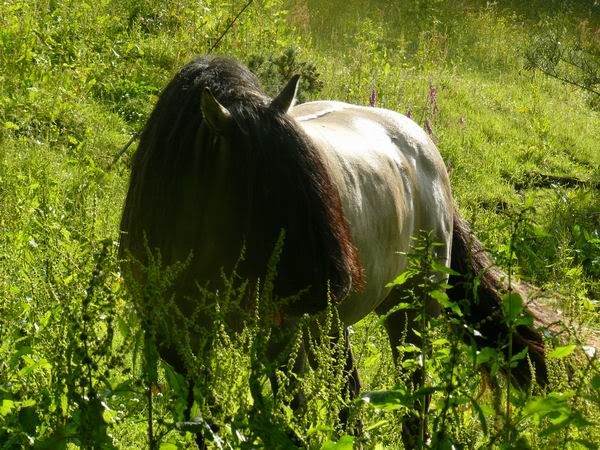 Rannoch relaxing in the sun after his RHASS Championship.
Siusaidh (2 yr old) & Quad.
Old Meg....28 years old in 2012.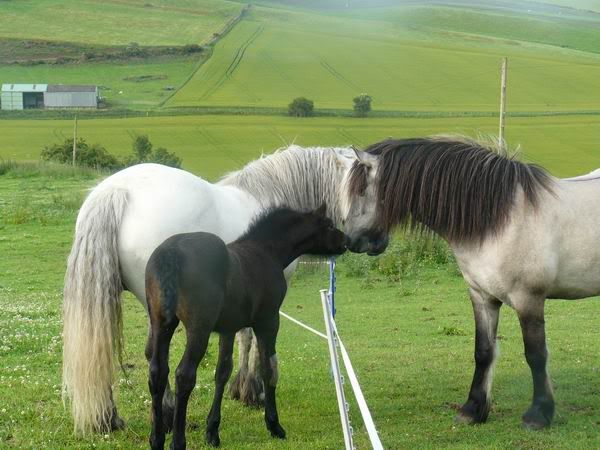 Fionnalaigh, Sandpiper & Siusaidh.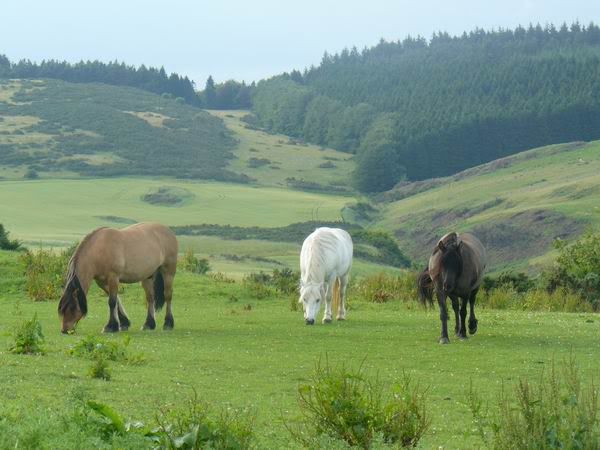 Euan Skye & Rowan .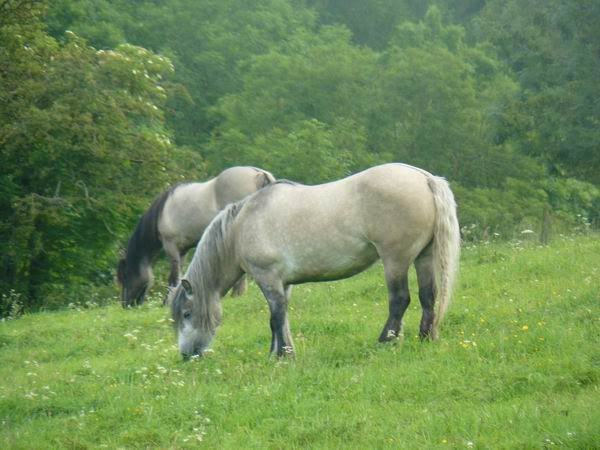 Eve of Meggernie,on of our visiting mares in 2011.
And Ulleam (William) her foal.

8th January 2012.

First of all A Very happy & Healthy New Year to all who come on here and read my diary of events.

This should really be on a new page for 2012 but as I still have to record 2011 I shall just carry on with our news from last year.

We normally go to Doune & Dunblane show but as I was judging Fettercairn Show this wasn't possible in 2011. However Tim and I thoroughly enjoyed our visit to Fettercairn. I have judged it before but many years ago now, so I was looking forward to it. We were blessed with lovely weather and the ponies were all turned out well and behaved themselves. My In hand Champion was Lynne McDonald with Morvern of Coynach ( apologies if I have her name wrong etc. but I threw away my catalogue!!!). Reserve Champion was a lovely Turin Hill mare & foal shown by Hamish Cameron. Here are a few photographs from that day.
My Championship Line Up with Champion at this end.
Hamish Cameron with his lovely mare & foal.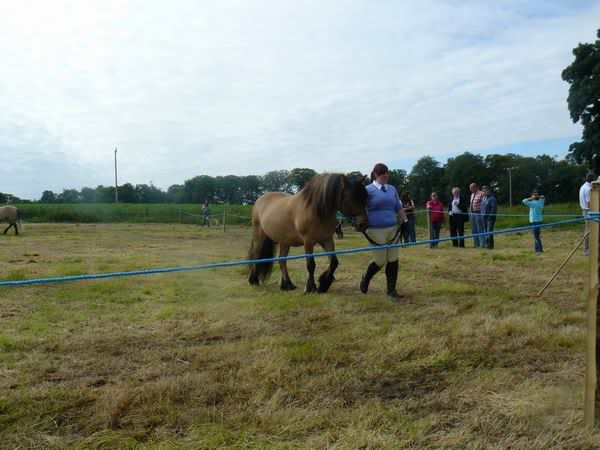 I had to add this one. Strathmore Blair whose sire is Eros of Achnacarry.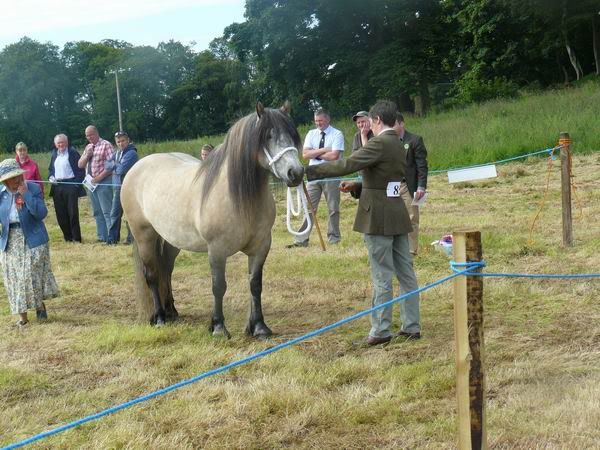 Kate Lawson with her pretty Lochlands filly.
Kirsty Williams with MacPherson of Craigieloch, Ridden Champion.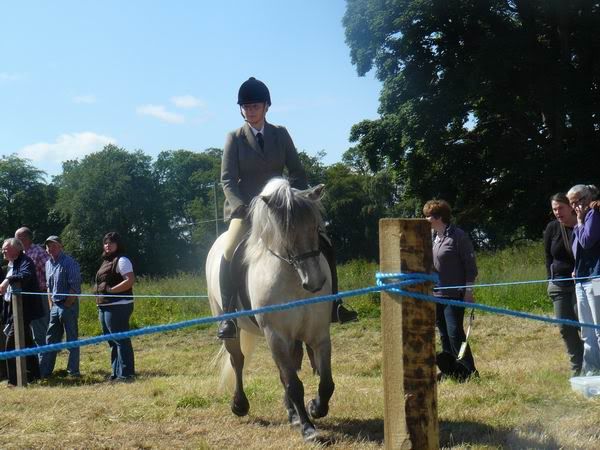 Another young mare starting out on her ridden career.

After Fettercairn Show our next event was to visit Moss-side Stud near Methven, Perthshire, with Central Scotland Highland Pony Club.

This visit was well attended and we were shown the youngstock, older ponies and the three stallions. Once again we were blessed with dry weather and a good time was had by all. Previous to our visit we met up for lunch giving everyone a good excuse to catch up and have a good blether!! Here are a few pictures from the day.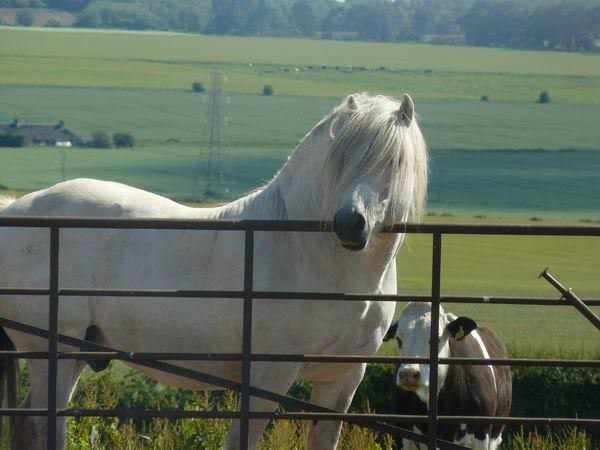 Moss-side Domhnach who is around 16 years of age. A very traditional stallion with a handsome head.
Moss-side Iain-Mor.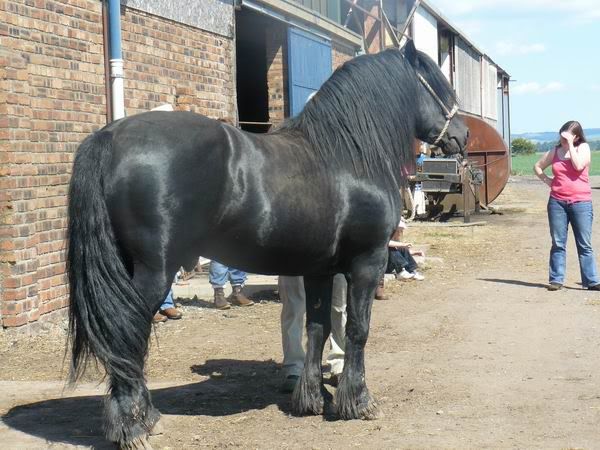 Moss-side Iain-Mor.

NOVEMBER 2011

Here I am again trying my best to get this web site up to date!!!

Last time on I had got as far as selling Rosealie, our 3 year old filly to Jennifer Westfall who lives in Missouri, USA. Rosealie left us on 1st September to travel down to Newmarket where she stayed until the following Tuesday when she was flown out of Stanstead to New York where she spent two days in quarantine before onward transmission to Ohio. She spent the next two weeks in CEM Quarantine Stables there called Blue Diamond Stables and they were the height of luxury. Apparently they were so excited when she arrived and loved her to bits. She was well cared for there and eventually reached her new owner two weeks later. Since then, Jennifer has kept in contact giving us updates and a few pictures of "Ellie". She has another Highland mare for company plus two Dartmoor ponies and we look forward to hearing more about her and also look forward to hearing about her foaling around April next year. Here are a few pictures of Ellie leaving here, arriving and leaving Blue Diamond Stables and arriving at her new owner's farm in Missouri.
Ellie after her bath at Pitmenzie.
Walking towards the Horse Transport.
Saying Goodbye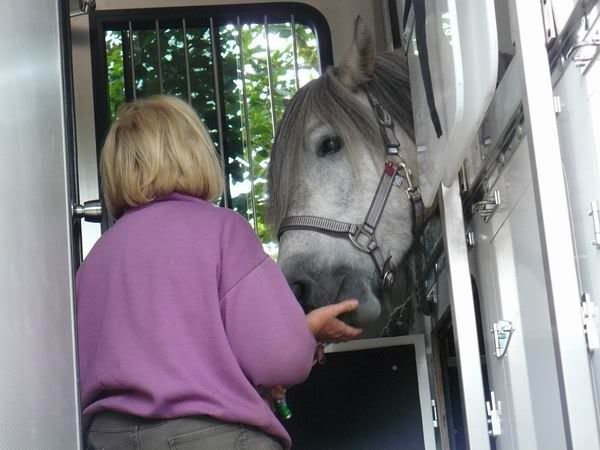 Ready to go
Ellie in Ohio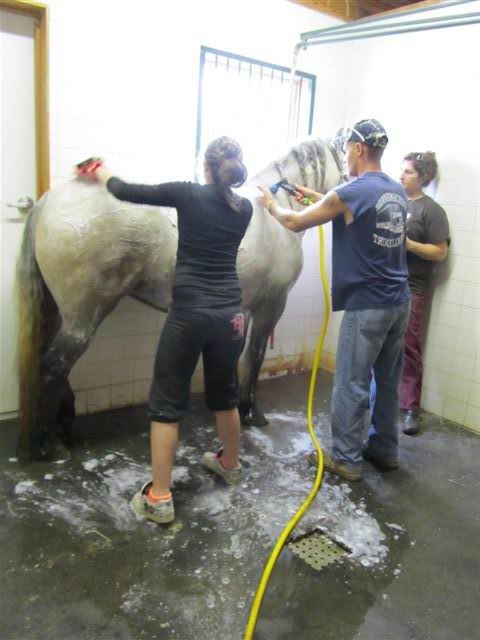 Ellie being bathed at Blue Diamond Stables Ohio.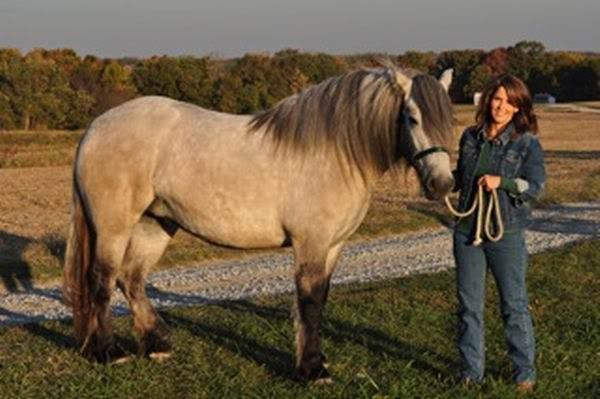 At last!!! Ellie with her new owner in Missouri. Jennifer Westfall.
Ellie with a Dartmoor companion in MIssouri.

1st October 2011

I failed miserably to update in August due to being too busy?!!!!!!

Anyway today and tonight I have updated Tiffany's page and now hope to get on and update on this page also. We actually didn't do as many shows as normal this year....not for any specific reason we just didn't!! I haven't been to any Western clinics..totally unheard of for me...again no rhyme or reason...just other things seem to have taken precedant. However, we were successful in selling two ponies to two lovely homes where they will be much loved and looked after.....something I am sure most breeders want for their ponies. The first pony we sold was Robbie.....he appears first at Central & West Fife Show on his first outing and since then , Lynne & John his new owners have gone from strength to strength.

Robbie's proper name is : Roibeart Buidhe of Achnacarry.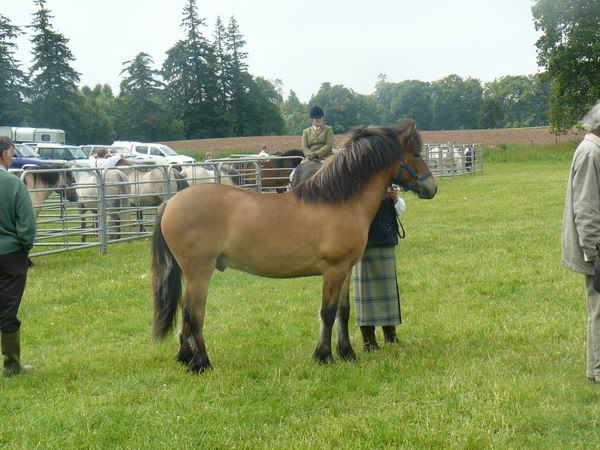 Robbie at the Breed Show.
Lynne with Robbie at Kinross Show.
Lynne & Robbie Kinross Show.

I havent kept count but I think since being shown Robbie has gained two or three first prizes two or three second prizes and one third prize. Not too bad for his first outing with his new owners who up until now had never shown a Highland Pony in hand before.

The next pony we sold was our lovely 3 year old, Rosealie of Achnacarry to Jennifer Westfall of Missouri USA.

6th August 2011

Time for an update proper...hopefully! It is absolutely pouring rain tonight and tomorrow is more of the same according to the weather man!

To read more about all our escapades scroll down past our Highland Show Report.............

6th July 2011 2011

STOP PRESS:!!!! I shall update this page shortly but just to say that we had the Best Highland Show ever! It has only taken me 33 years to be awarded Champion. Our Highland Pony Stallion, Rannoch of Achnacarry won his class then went on to be Male Champion and Reserve Overall. He is 10 years old and is by Tarka of Orangefield and out of Midge of Achnacarry. His son, Sheamus of Inverdarroch was Best gelding and Reserve Male Champion...the first time this happened we think. The 2nd prize stallion, Kestrel of Glencree was by MacGregor of Achnacarry and the 1st prize yearling filly was by Echo of Achnacarry.

Echo is a 12 year old stallion and was Supreme Champion in hand in 2007. Last year he was Reserve Ridden Champion. This year he went one better to be Overall Ridden Champion. Echo is by MacGregor of Achnacarry and out of Corrie Bheag of Achnacarry. We are very proud to have bred both of these handsome stallions. Photos will follow:
Rannoch of Achnacarry RHASS 2011. Male Champion shown by

Bruce Haliburton . Photo curtesy of Thea Lawson.
Rannoch & Bruce.
Echo of Achnacarry. Ridden by Pam Brown for Bruce Haliburton.
Echo of Achnacarry. Overall Ridden Champion RHASS 2011. Photo curtesy of Thea Lawson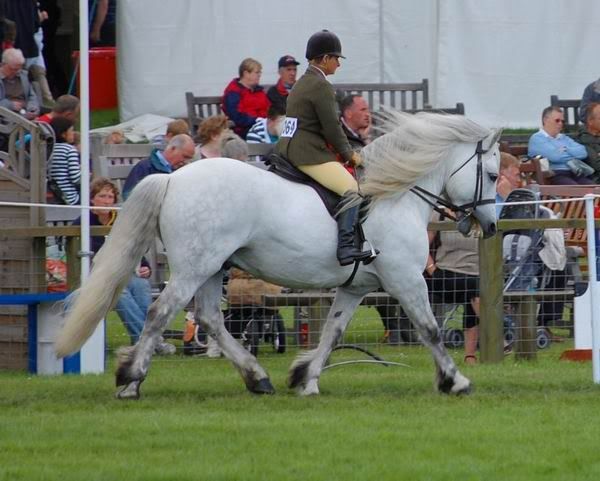 Echo of Achnacarry ridden by Pam Brown...owned by Bruce Haliburton.

The next happening on our agenda was our Annual Ride in aid of Grass Sickness. It was on 7th of May this year and we had around 23 riders and a few others. As always we had a nice dry day and we were rewarded by the lovely views across to Perth and Dundee once we rode up to the highest part of the forest. As always we stopped and had our picnics, fortified with Tim's very popular Damson Gin! We usually manage to get through a Litre and a half of the stuff and this year was no exception!!! We collected £300 and sent it off to Joyce at the "Bush" and have since received our usual Certificate which hangs in our Barn along with all the others.

Here are a few pictures of the day.
We have loads more but that had better do for the moment!
The following day was CSHPC Spring Show and as none of our ponies were really ready we decided to go along and watch for a change. From memory it was well attended and Champion was Myleen of Millfield and Reserve was Alison McLeod's young gelding. Here is a picture of Myleen of Millfield.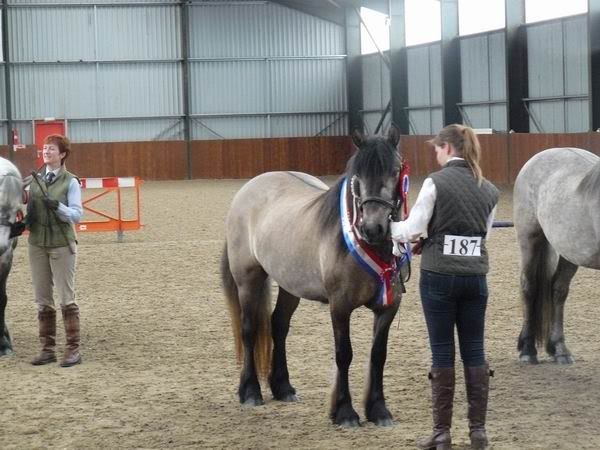 Myleen of Millfield Champion at CSHPC Show.
Another winner was Noah of Meggernie who won the Nursery Novice Class and here is a photo of him.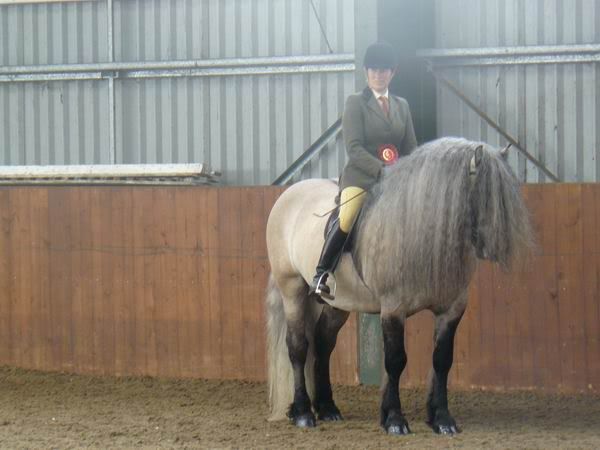 Noah of Meggernie.

After CSHPC Show our next show was Fife Show where I was judging rather than being judged!! I had a most enjoyable day and my Champion was Charlie McQuattie's pretty 3 year old filly, Rosie of Strathmore and my Reserve was

Irene Grant's gelding, Sheamus of Inverdarroch. Unfortunately, Tim hadn't our camera ....so no piccies I'm afraid! Our next show was Drymen Show on 28th May but as we had had an invitation from Colin and Carol Mason to attend their combined Birthday Party, we had decided to go there instead. However as things turned out we didn't go to that either as our mare, Fionnalaigh of Achnacarry decided to foal on the Friday morning and we had to have the vet out to cleanse her, mainly due to the fact I left her in the field with some of the other ponies and she didn't take time to pass her afterbirth. It was a quick and easy foaling for her and the foal was a large colt foal born black but would turn grey eventually. We have decided to name him Achnacarry Sandpiper. Here are a few pictures of him when he was just born and afterwards.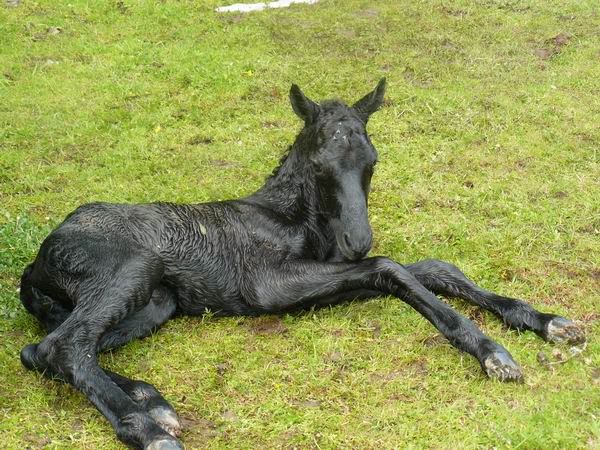 Achnacarry Sandpiper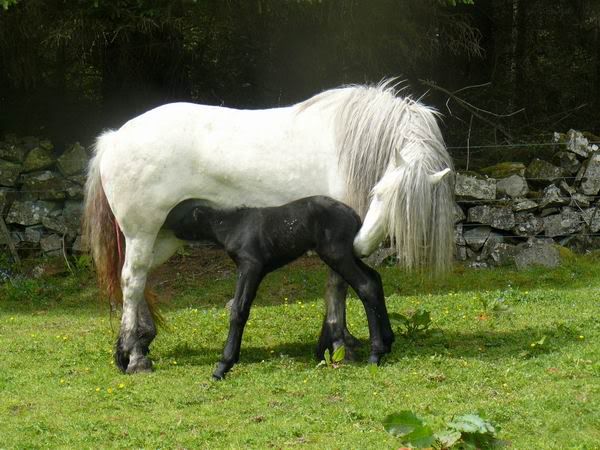 To add here are a few more recent piccies of him.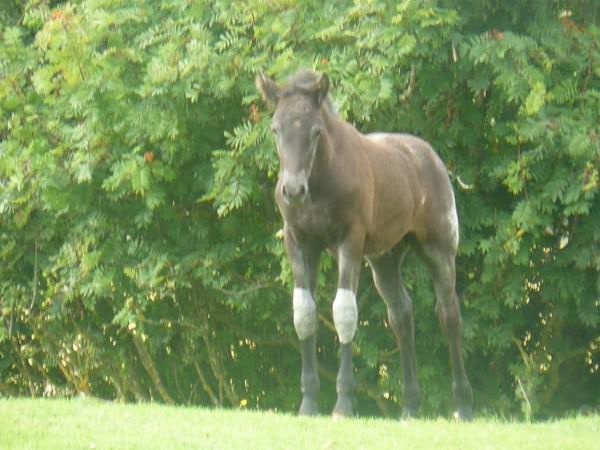 The reason that his legs have grey patches on them is because about a couple of weeks after he was born I noticed that he swellings just below his knees and as we had had problems with our filly foal the year before we didn't want to take any chances and called in our vet who thought he should have his knees X-Rayed. Off we drove to The Dick Veterinary college in Edinburgh with mother and baby and he had an MRI scan and also his knees x-rayed.

The outcome was that his tendon sheaths were bruised due to the fact that he had arrived 3 x weeks early (although this has happened often before with other mares). The vets advised us to keep in a small space and restrict his movements for approximately 4 - 6 weeks! Difficult with a foal! We did what we were advised for 2 weeks and then I am afraid I gave in as Fionnalaigh was totally fed up and wanted back in with the other mares. Almost 2 months later I am pleased to say that Sandpiper is fine and that his knees are practically back to normal. However he looks like a patchwork quilt at the moment due to the fact that his knees were shaved and also because he is now loosing his foal coat. So no shows for him and his mother until he grows in a nice new coat!

Next for us was Central & West Fife Show on 4th June and we took our yeld mare, Rosanna of Achnacarry who is in foal for next year to Concorde of Whitefield. We had Wendy Rowe from California staying with us as she was probationing at the show with Audrey barron, our Judge for the day. It was good to see Wendy and also to have some help in getting Rosie ready for the show. Although I was worried that Rosie was perhaps a little fat, I needn't have worried because she was pulled in first to begin with but ended up 2nd, but still a good result and we were delighted. In addition to showing Rosie I had offered to show Robbie for Lynne Alexander, his new owner. In we went and we were all so pleased with him as he behaved so well and trotted out for the Judge. He was awarded 1st place!!

Here are a couple of pictures of both of them
Rosanna of Achnacarry
Roibeart Buidhe of Achnacarry
Robbie

Time for bed as we had an early rise this morning.

Until the next time..........

23d April 2011

At last.....a rainy day!!!!

To carry on from where I left off. The next event on our Agenda was a surprise Birthday party organised by Gillian MacMurray and Jan Grant for Anne Mitchell! We were duly invited and warned under no circumstance to let the cat out of the bag!! It was quite difficucult for me as I was seeing Anne a few days before the big event. However I managed.....unusual for me I must say!! Tim and I arrived at Gillian's along with several other of Anne's friends and when we heard Anne driving in, we all hid behind a door!! She certainly looked surprised when we all bounced up and sang Happy Birthday. We had a lovely day, enjoyable meal, good blethers and of course had a tour of the Trailtrow ponies who were all looking super. Anne and I had a vested interest in one of them, namely Dunedin Ranald sired by our Rannoch of Achnacarry out of Anne's mare, Dunedin Mountain Rose. I have since heard from Gillian that he has been granted his Stallion License and I hope he does the job for her. Here are a few photos from the day.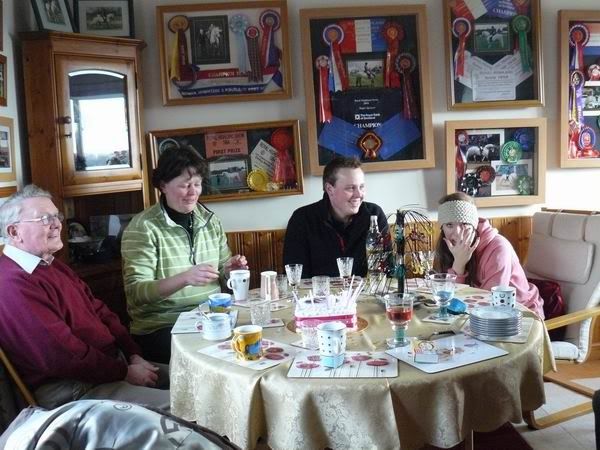 Tim, Anne Chris & Emily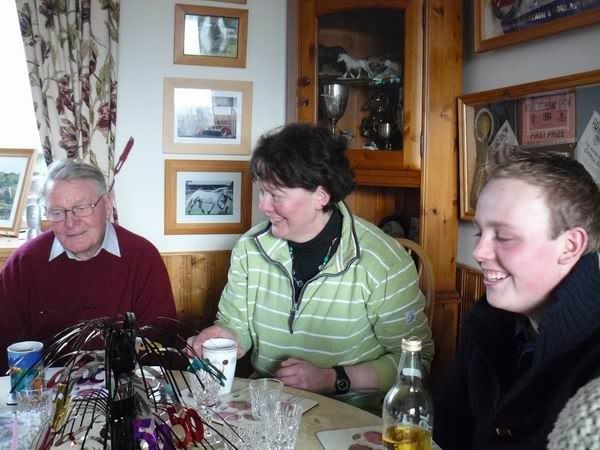 The three Musketeers!!
Anne's cake with Dunedin Marksman.
Outside with Chris & Emily on Gillian's ponies
In the School
Again in the school.
A couple of Gillian's mares.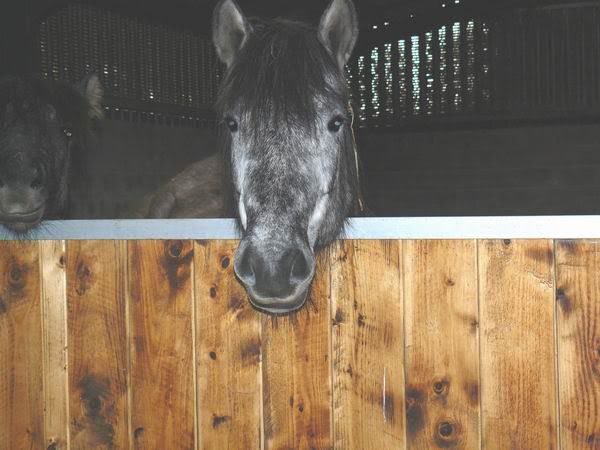 A couple of youngsters.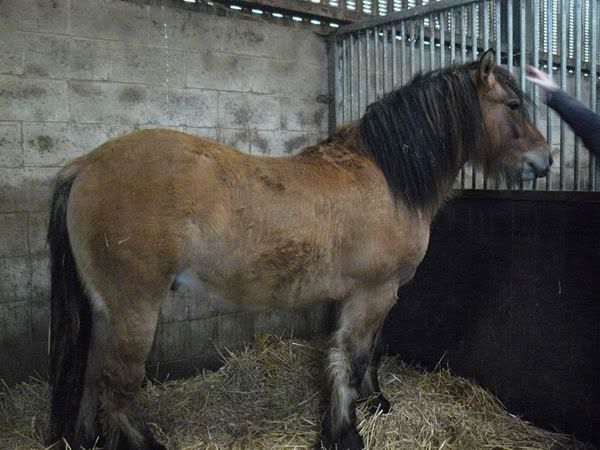 Last but not least.....Dunedin Ranald.

Our next big event was The Stallion Show held at Stirling Market on 5th March. We had entered Ellie, our 3 year old filly along with Robbie, our yearling colt. Our Judge was Mrs Pat Watson. We were not at all sure that we would manage to take Robbie due to the fact he had never done anything because of the snow. However, gradually we managed to get him out in the field and Tim trotted him up and down for me as he was quite strong minded to begin with. He seemed to get the hang of things quite quickly and we decided to bite the bullet and risk taking him and hoping not to make a fool of ourselves.

He loaded very well and travelled very quietly with Ellie for company. The whole day was a success as far as we were concerned. Robbie walked and trotted out in front of the Judge, didn't put a foot wrong but was pulled in last!!!! Hm!......He finished up 4th so that was much better and put the smile back on our faces! Ellie was 5th in her class and again behaved very well. She was probably once of the hairiest there! We didnt have our camera with us that day as we knew we would be too busy with the ponies but Susan wardrop took one of Ellie so I will add this below along with one of Robbie at home.
Robbie...taken at home.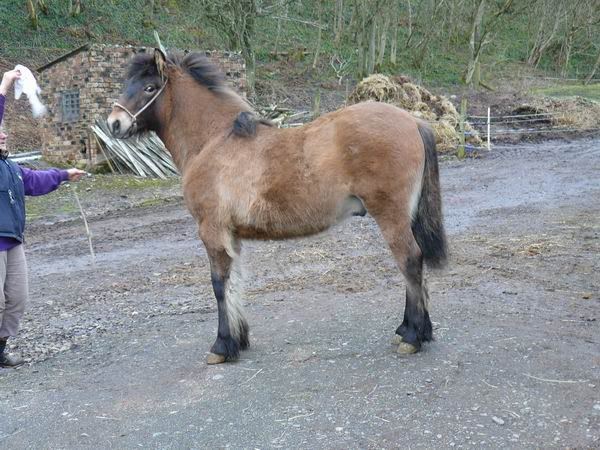 Robbie
Ellie That was The Stallion Show out of the way!! Next was Crufts with the dogs the following week. We were showing on Sunday, 13th March so we left the animals in the capable hands of Jimmy and Brenda and headed down to Birmingham with Sasha, Sophie and Alfie whom we bred but is owned by the Smith family. However more about Crufts on Tiffany's page.... .........once I update it!

Next event on our busy calander was The Highland Pony Society's Study Day held at Gleneagles Equestrian Centre on Saturday 26th March. There we had some interesting talks and demonstrations by, James Munro on what to do and what NOT to do when riding in Working Hunter classes! Nest was Gillian MacMurray who gave a good talk about showing ponies in hand again featuring on various points. Our last talk was given by a vet from The Royal Dick Veterinary College. He was called Matt Hanks and he also gave a very interesting talk about Breeding Considerations and Concerns. He talked about Infectious diseases transmitted during breeding, also Determining suitability for breeding and lastly AI and recent advances in reproductive technology.

Everyone took away something from the day which interested them.

Our next BIG excitement was that our American friend, LeeAnn Bunn contacted us to say that she had been talking to a very nice lady from Missouri who was interested in importing a Highland Pony preferably in foal. LeeAnn had seen our Ellie (Rosealie) in the summer and at The Highland Show,2010 where she was 3rd prize filly in a large 2 year old class. We duly contacted the lady and she has confirmed that she indeed would like Ellie and preferably in foal. Since then there has been frantic "to Ing" and "Fro Ing" with e-mails and phone calls to Jennifer, our new USA friend and eventually, after studying loads of Pedigrees and after various phone calls and discussions we have on loan for a few weeks a very nice, handsome boy!!........I'll keep you guessing for a bit yet!

Next was David, Tim's son came to stay for almost a week. He lives in London and runs a very busy Pub which is about to be turned into a Hotel. David just need to chill for a bit and decided to pay us a visit then back to London for a few days then off down to Devon for another few days. We had a lovely time with him and I especially was thrilled and grateful to have his help in walking out with me on board Rannoch....who to be fair is usually very laid back, but as I hadn't ridden him anywhere much outside the yard it was nice just to have the company and security of someone walking beside me.

David and Tim also had great fun with a bonfire in the yard getting rid of all our garden rubbish.
The Bonfire.
Tim and David

We ended his visit with a meal at The Beinn Inn which was excellent. We were very sad to say Goodbye to David and the house felt quite empty for a bit. Even the dogs missed him as they all had great fun playing with him!!

Here are a few photos of me on Rannoch, taken mostly by David.
Me, David & Rannoch.
David, Rannoch & Me!
Again!!
Me & Him!!!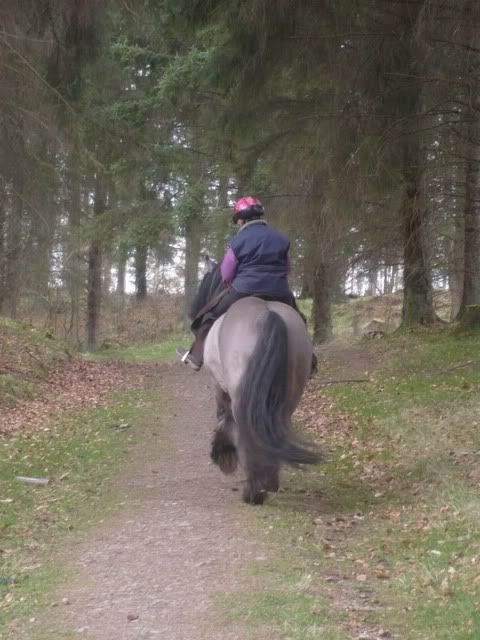 Trotting back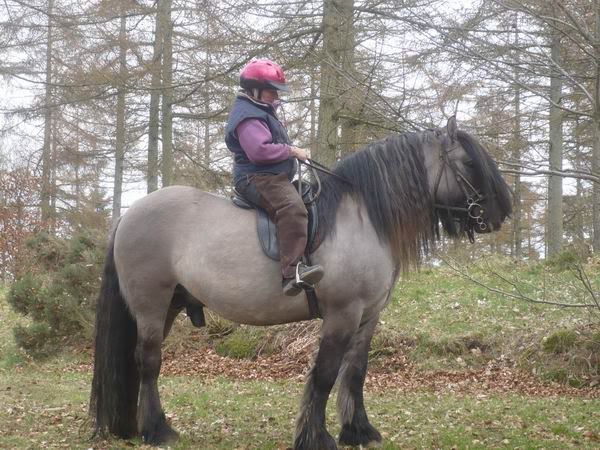 Posers!!
Back home.
Yet Another!!
Mr Handsome!!!

We are almost up to date now....wonders will never cease!!

Next thing we are thinking about is breeding and foals!!! Unfortunately due to circumstances it looks as if we only have 1 foal expected. Fionnalaigh is due around 7th June but perhaps she will decide to foal earlier if the weather stays warm. She is in foal to Edindurno Benromach so we are quite excited about it. Since we have no other foals due we decided that we should start early this year and make sure we have more in foal for next year. With the successful sales of our yearling colt now gelded and our 3 year old filly due to leave for the States in foal around end of September beginning of October we ....or I !!! have decided to put at least 3 mares in foal and also hope that one or two of our "oldies" decide to get pregnant this year also! As I said previously, our 3 year old filly has been put to a stallion we have on loan for a few weeks. One of the reasons is that she is a Tarka daughter and therefore a full sister of Rannoch. We have also put her full sister, Rosie (Rosanna) to the same stallion and also their mother, Midge so that will be something to look forward to next year. Rowan a half sister of these two young mares has gone to her "foal playmate" of 12 years ago! He is Echo of Achnacarry and this match has always been on the cards once Rowan was finished from her ridden career.....Here are a few photos.......
Rowan & Echo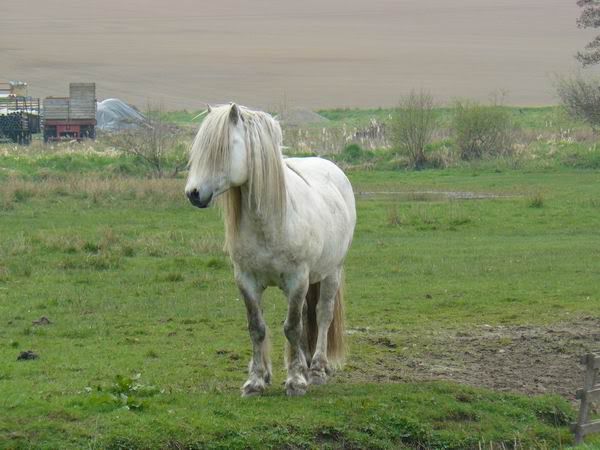 Echo of Achnacarry
The girls with their visitor.
The Visitor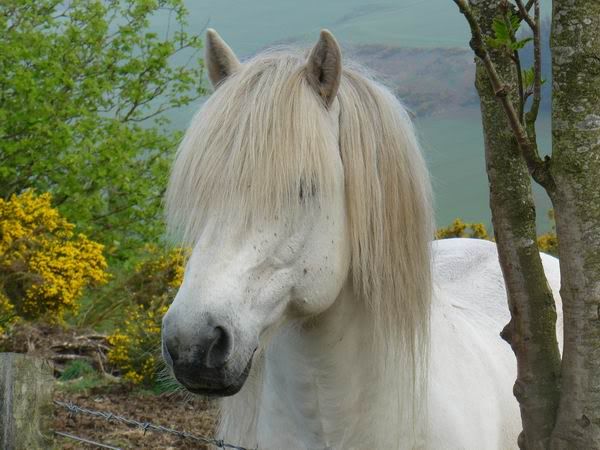 The Visitor

On a finishing note.....today we delivered Robbie to his new home which is not far away from us. His new owners, Lyn & John Alexander live as the crow flies two fields away from us and by road about 5 minutes away!! Robbie loaded very well and we took Xanthe with him for company. He looked a bit surprised at the other end when he came out of the trailer but soon had a trot about his new paddock, then spotted his new companion, Harvey who just happened to be on box rest so in his stable. However Robbie can see him easily from his new abode and seemed to settle fairly quickly once he had finished looking at his other next door neighbours.....cows and calves!!! We look forward to hearing from John & Lyn tomorrow as to how Robbie was after his first day away from Pitmenzie. Photos will follow once we have downloaded from the camera.

Well that is this page updated mostly and next is Tiffany's page!!!! For the next weeks ahead they will consist mainly, I hope of riding Euan and Skye and perhaps Mhairi and Xanthe by my friend's grand-children. Rannoch can also look forward to his two visiting mares and foals which should arrive sometime in May. That should keep him happy. As we have entered him for The Royal Highland Show we are not taking in many mares to him prior to the Show but to keep him sane he needs some!!!!

Until the next time...........

18th January 2011

Just to say Sales Page is being updated.

2nd January 2011

A Very Happy New Year to everyone who enjoys reading and looking at our web site. I had intended getting the site up to date before 2011 but haven't totally managed so I shall continue with the end of 2010 news.

During October, a couple of friends and I went visiting down to Over Langshaw Farm near Galashiels to visit our friend, Isy Feist who was recently married. Isy has Moss-side Una and also Morla of Millfield. She also has a foal from Una by Kestrel of Glencree and as he is a half brother to our little Maggie I was keen to see him as well as Isy and her ponies. Brenda and I were driven there by Jennifer Allan so we all had a super day and thoroughly enjoyed our visit. After seeing Isy's ponies.... she also has a Chapelhill gelding.....she took us across to Bob Moffat's farm, Wooplaw to see his ponies and his stallion, Erray Rush. It was all very interesting and always lovely to see other people's ponies and foals. Here are a few pictures of our visit.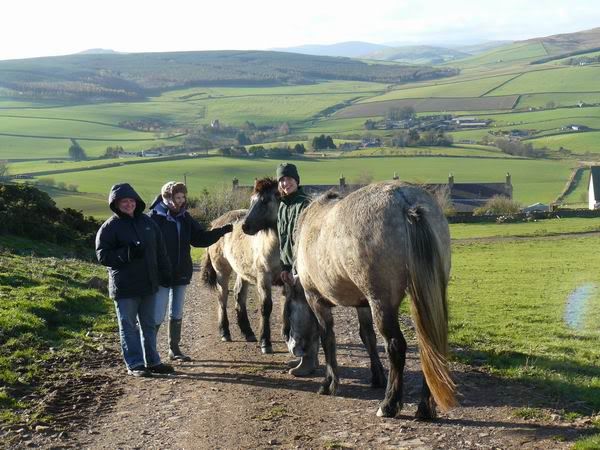 Brenda, Jen and Isy with her ponies.
Isy's foal
Isy's foal again

We also had a tour of the Isy's husband's parents' farm which is an Organic Dairy Farm. We saw the dairy cows and their calves and also their piglets and hundreds of free range hens.

Here is a piccie of their piggies.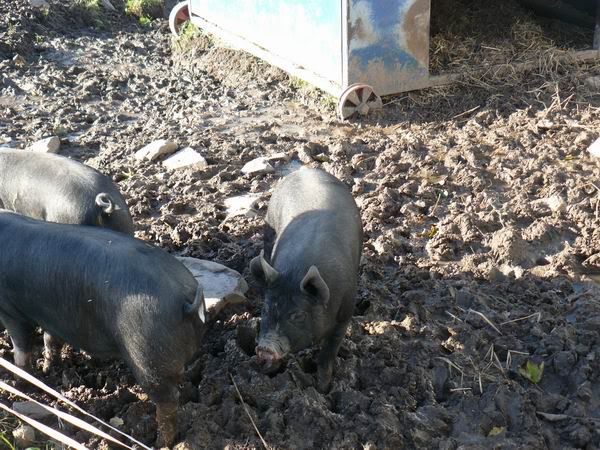 Next the piglets' mother!!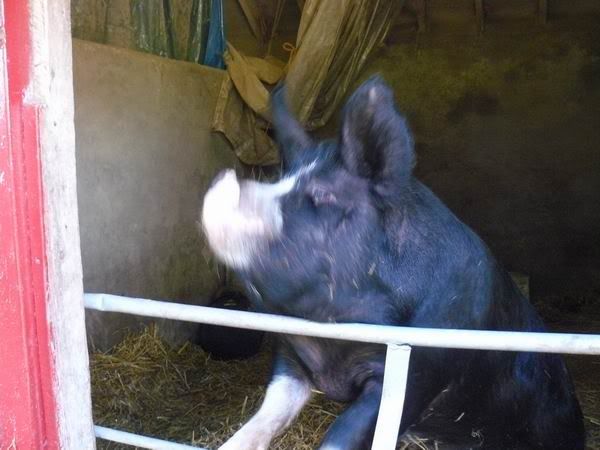 Next are a few pictures of Bob Moffat's stallion and just a few of his ponies.
Erray Rush...wanting to eat the camera!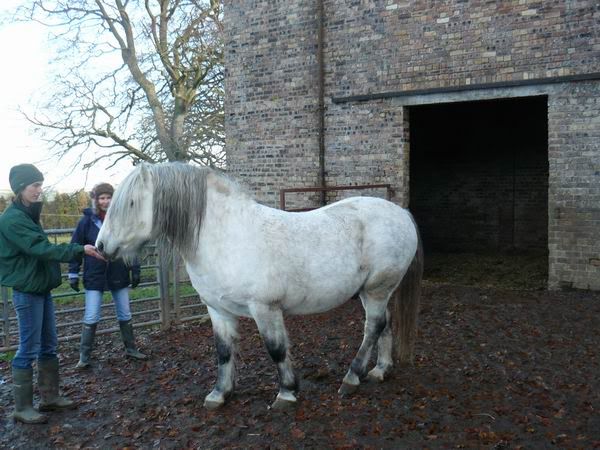 Erray Rush
Erray Rush again.
Some Glenmuir youngsters that Bob has bought in.

Next on the Agenda was The Highland Pony Society Dinner Dance in November. Tim and I joined several friends in The Salutation Hotel where the dance was held. The Band was Willie Simpson and friends and a great evening was had by all. We thoroughly enjoyed ourselves and judging by the amount of people who were attending it was a very popular venue for the dance.

On the day after there was new Foal Show run by Lynneann Cameron and Alison Walker. It was held at Inchcoonans Equestrian Centra. We decided to support them as it was a new show so we bravely got up early next morning and took Rosealie, our 2 year old filly . Our Judge was Kate Dykes and as the show was after the Dinner Dance the Highland Ponies weren't too well represented!! However we managed to get a 2nd prize in the 2&3 year old class. Champion was Burnside Vorlich owned and shown by Sandie Kydd. We were especially delighted to see out for the first time a filly foal by our Rannoch, belonging to Jean & Sandy Reid. She was 1st prize foal and also Reserve Champion. Here a few photos from the day.
Burnside Vorlich
Burnside Vorlich
Ellie (Rosealie of Achnacarry)
Ellie again
The filly foal....Grace by Rannoch of Achnacarry.
Grace again. We also donated the trophy for the Champion Highland Pony and here it is. Perhaps it will encourage more entries for this year!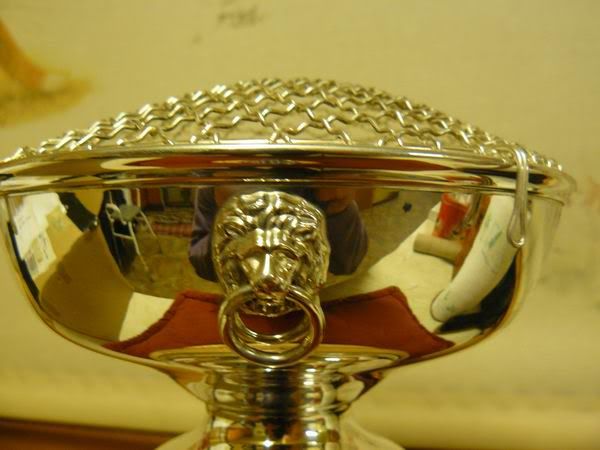 Next was The Winter Fair and although we had entered Rosealie and our colt foal, Robbie, we decided just to go and watch and have a stress free day out! Of course it was on the previous day that the snow began and on the following morning we had second thoughts as to whether we should go. However we did and were rewarded by seeing Martin Clunes as well as Clydesdales,Highlands and Shetlands! Apparently Martin has bought two colt foals from Ronnie Black for his use as riding horses in later years!
Carrying on from the Winter Fair .......the snow arrived more and more until we were almost certainly snowed in! There was no way we were going anywhere and our days were full of feeding ponies, de-frosting baths and buckets. Also trying not to fall on the snow. At first we thought the snow was great fun and an opportunity for lots of photos of the ponies and dogs in the snow. However after several days of very low temperatures it became very difficult to get about quickly and soon we were becoming rather tired with it all! We had at least 3 feet of the stuff if not a little more. One very worrying thing was three of the huge heavy beams that hold up our ancient barn were cracked with the weight of the snow. Our neighbours had had the same problem in that their roof was sagging under the sheer weight of the snow so they spent several days trying to knock off the snow. Luckily for us they came up to have a look at ours and we discovered these three cracked beams. We had to prop the roof up with another long beam until such time as we could get help to fix them. It was quite a worry but once our neighbours had some time they came back up and fixed the three beams and hopefully they will be safe again if we have more snow.....Lord forbid!
Here are a few piccies of the beams.
Our worst beam!
Our prop for the beam and therefore the roof!
The yard Pitmenzie December 2010.
Our road December 2010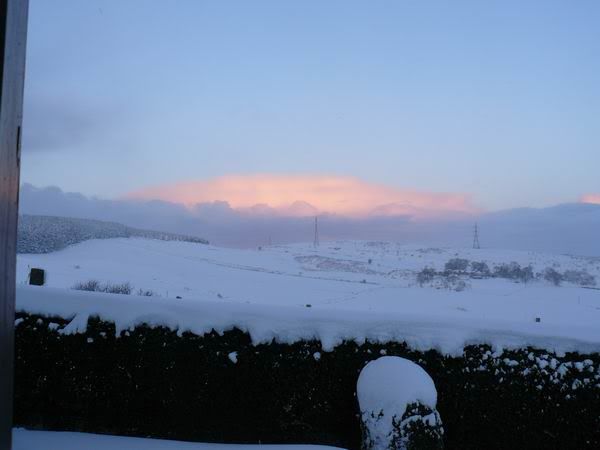 View from our porch.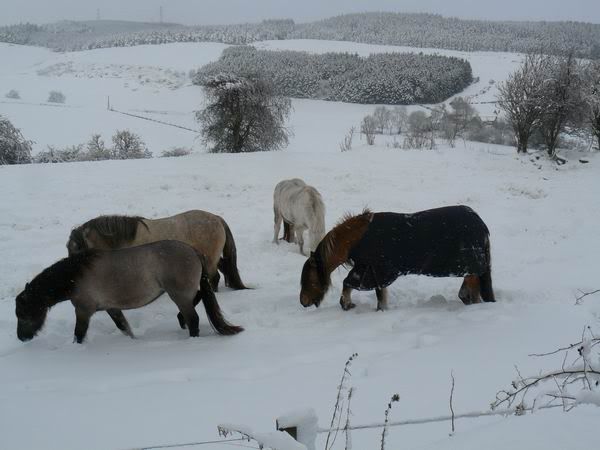 Some of the ponies...a wintry scene.
Old Meg aged 26 years looking well in the snow.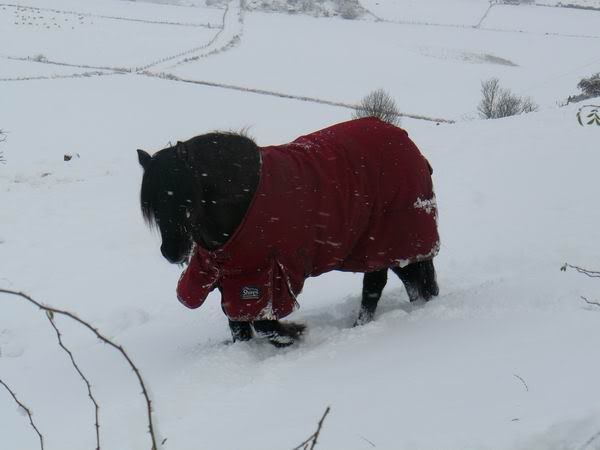 Pretty Rowan nice and snug in her rug!!Clipped underneath.
The two foals, Robbie & Maggie nice and dry.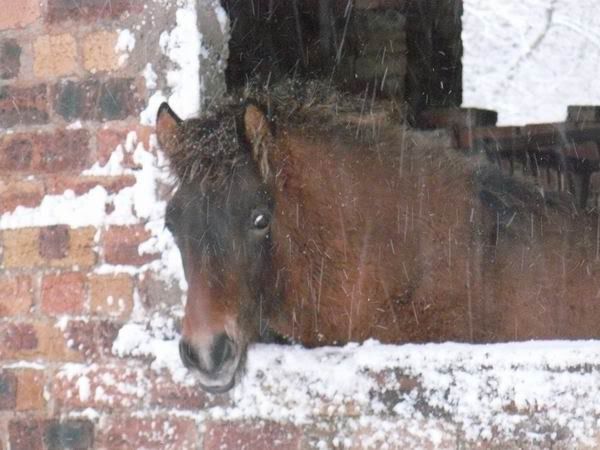 One of Robbie, our handsome colt foal who will be for sale later on in the year once he has had more handling and education. So far he has been haltered and led around outside before the snow arrived. He has also been in the trailer with his mother and also on his own but wasn't too happy about it so we obviously have to do some more practice once we are able. He has a lovely temperament and loves to be groomed. Unfortunately we lost his friend, Maggie our filly foal, two weeks ago to pneumonia and a nasty bacterial infection which she just couldn't shake off. We tried so hard and thought we had beaten it but unfortunately it wasn't to be.
Here are a couple of early photos of Maggie and her mother, Rosanna. The photos are courtesy of LeeAnn Bunn, our American friend who was over visiting in the summer.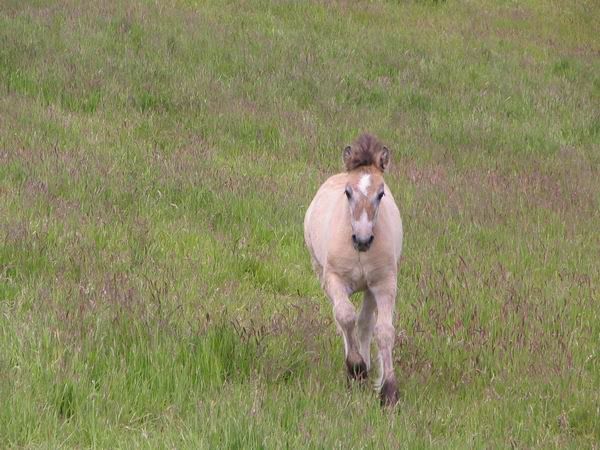 Maggie Rose of Achnacarry.
Maggie and her mother.

Again here are a few more pictures of the house and ponies during the severe wintry weather we experienced in 2010.
Pitmenzie Farm 2010.
Our icicles!!
Tarka & Corrie looking for their breakfast!
A well insulated Tarka!!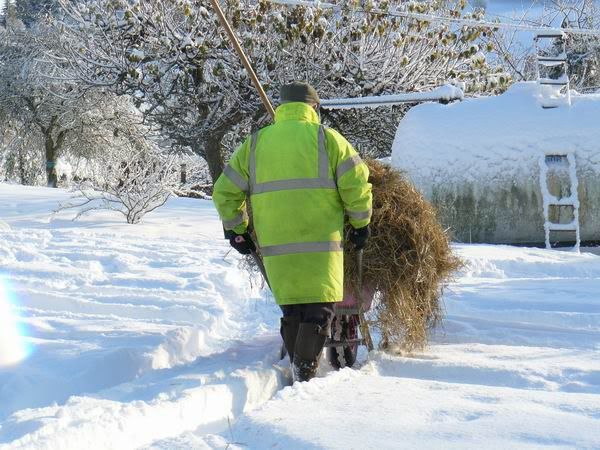 Tim and their breakfast!!
A pregnant (I hope!) Midge.
Our garden 2010

I think you get the picture!! We have hundreds of pictures of snow with dogs, ponies, people, scenes etc. but that will be enough for the time being!

Next came Christmas and meals out! Prior to the big day Tim and I had a lovely meal courtesy of the Bank of Scotland Pensioner's Club which we are members of. It was held at the Murrayshall Hotel, Scone and very nearly was cancelled due to the weather. Thank goodness it wasn't!! Next I had a meal with a few of my friends at The Anglers Rest just outside Perth then a couple of days later, Tim and I had lunch with several members of The Central Scotland Highland Pony Club. It was a lovely afternoon and definitely something to look forward to this year again!

To complete my "eating out" I met up with two of my school chums (we're all rather older now!). We had lunch at The Wee Restaurant in North Queensferry and I thoroughly recommend it to anyone who likes something a wee bit extra special........I won't add a picture!! Next, Christmas came and went. We had an enjoyable Watch Night Service with our friends and neighbours, The Swans. We drove into Cupar and the service and carols put us in the mood. Christmas is always a pleasant time for us with or without company. This year we invited our other neighbours up for some mulled wine at midday and it certainly helped the day go by until our evening meal which wasn't without incident!! We were eating duck and Tim, who is The Chef in this house decided it was cooking too fast, turned down the Rayburn and managed to turn off the pilot light and we couldn't get it lit again!! However our neighbours who had been up for their mulled wine offered the use of their alternative oven so as we could finish off our duck and also cook our roast potatoes!! It is lovely and essential to have good neighbours!!!! The only Christmas photos we have are of the dogs!! Here is one of Tiffany who always enjoys Christmas and knows exactly when the presents are in the porch!
Tiffany enjoying Christmas!!

27th December 2010

Well here I am again....have been so busy with all this snow I haven't had time to get on here to update. However I will attempt to get this up to date before next year!!

When we returned from our holidays in September our next venture was a Western Weekend which was held at Blackford Glen in Edinburgh at John Fyfe's place. Bob Mayhew was coming up for the weekend and the Saturday was to be a training day followed by a low keyed show on the Sunday. We could have stayed overnight but since we had been away for more than a week in September we daren't have asked our good friends to stay in our house again. However next year when it is held we will take the caravan over and stay. We took Euan back and forward both days and he was very good loading and unloading and also well behaved during the training and the show. The whole idea of the weekend was to help people with not much experience gain more confidence by competing against other like minded people, rather than against the high powered riders who excell in reining and other disciplines. It certainly worked as several of us attempted classes that we would probably not have entered normally. It was a great weekend, very friendly and sociable. Here are a couple of pics from the weekend.
Euan and I in the line up of the Trail class.
Some Stetsons!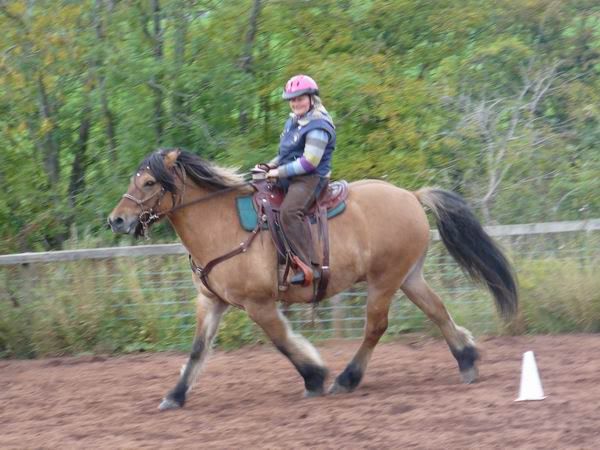 Euan and I
Trail class. Hopefully next year Euan and I will progress a little further with our Western riding as well as our English riding too. We may try him in some ridden classes as little Rowan is having a year or two out to have another foal. We shall miss her doing her ridden classes with Lisa, her partner at the shows but it would be nice to try and breed a replica of her to start all over again! After October, things have eased off in both the pony showing and the dog showing and the ponies have grown their thick winter coats. We decided to clip Rowan, Euan and Xanthe as we ride Rowan and Euan the most and Xanthe when she is ridden tends to sweat up a lot so is better clipped. Skye who is also ridden doesn't take too kindly to being clipped so just has to put up with sweating up!! Unfortunately we had more or less just enjoyed a few weeks riding when we had the start of a very early winter! I don't think we have had as much snow in a long time......we had around 3 feet here and it was impossible to ride. We decided to get the Farrier to remove all the ridden ponies' shoes based on last winter. If this one was to be similar there wouldn't be much riding done until at least March! It will do the ponies' feet good anyway to be without shoes.

To be continued..............

8th November 2010

Back again. That's one thing about these dark nights I can get on with things......nice things like updating the web site and horrible things like ironing!!!! Anyway, after the Central Show that was our last show and our next excitement was a weeks holiday in Devon and we were also calling in near Leeds to show the Schnauzers at Darlington Dog Show. This is reported on Tiffany's page.

We had rented a cottage near Kings Nympton in Devon and fairly close to Tim's daughter, Su and her family. Part of the reason for visiting was to see Faith, their daughter and therefore Tim's grand-daughter whom we hadn't seen for almost 3 years! We love the cottage as it is part of a barn conversion and is on a farm where there is also a Riding School so.....home from home!! It is a beautiful part of the country and the scenery is gorgeous. The local village has also a very nice Pub called The Grove Inn and the food is out of this world so need less to say we enjoy eating there. We spent quite a lot of time this time with Su, Kevin and Faith and one of the days we all went for a long walk with the dogs who had a great time. Here are a few pics from the day.
First of......The Cottage.....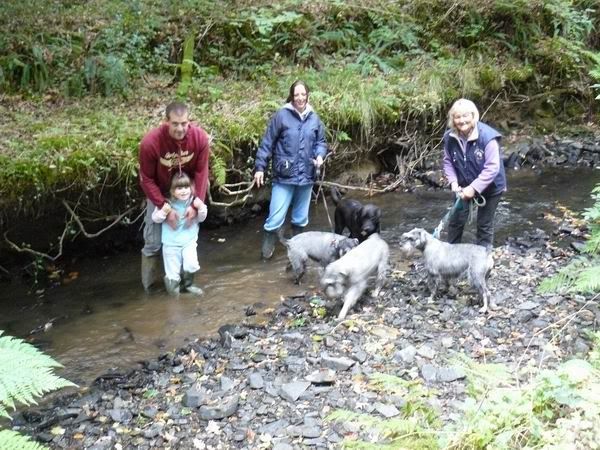 Mucking about in the river!
Faith & Tim resting!! Another day, Su, Faith, Tim and I went to the beach with the dogs and we all had a great time. faith and I were paddling in the sea and just as well Su had taken a change of clothes as Faith was knocked over by one of the dog's leads and fell backwards into the waves!! However a super day was had by all except Sophie who drank too much sea water and ate too much sand and ended up at the vets!!!!! Here are some more pics.
Faith & I paddling....
Faith & Tiffany
Tim and the dogs.......
Faith & I and the dogs
Picnic on the dunes.... We really had a lovely holiday and the weather was exceptional apart from the day we went off to Dartmoor! The mist came down not long after we got there and we were shrouded in mist! We managed to see a few ponies and take some pics and also one of a whole load of mad travellers on Pately Bridge.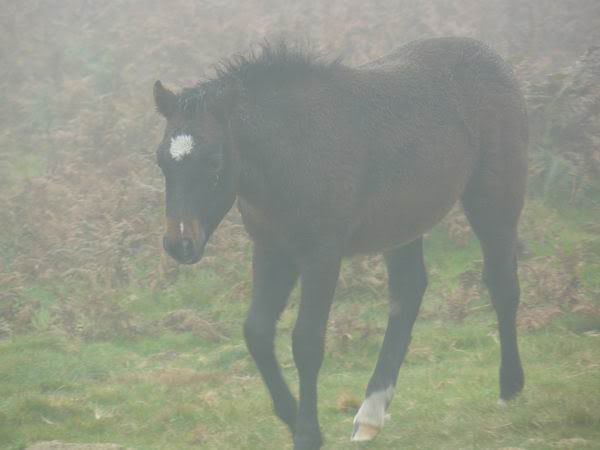 A sweet Dartmoor Foal
Feeding at the road side....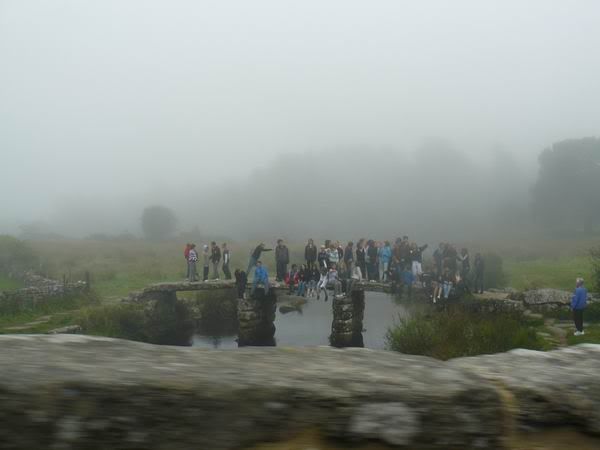 Pately Bride Dartmoor

7th November 2010

Well time for some more before supper! After Blair Atholl our next and last summer show was Central Scotland Highland Pony Show. This year it was held in the grounds of Strathallan Castle and I must say we thought it was a great day and everyone and their ponies seemed to really enjoy themselves. It was a great atmosphere and Tim and I especially enjoyed judging The Hill Pony Competition which was worth a guinea a minute!!

We decided to take Euan to the show along with little Rowan who was only entered in the Ridden Class. As Euan had won 1st Prize and Best Gelding at the Highland Show I also decided only to enter him in the Novice Ridden class. We were quite excited at the prospect of Euan in his first ridden class. However Euan had other ideas!! He wasn't at all happy being separated from Rowan and was a rather naughty boy so I'm afraid he was disgraced and never had a chance of being in the class. Ah! Well! ...... Back to the Drawing Board. Strangely enough later on at the beginning of October we were at a Western practice day with him and a show the following day and he didn't bat an eyelid and was very good in the school surrounded by strange horses. However Rowan wasn't there so perhaps that is the way forward....ie; take him on his own to shows until he matures more. Here are a few photos from the Show.......
Bruce Haliburton on Irene Grant's Sheamus of Inverdarroch.
Bruce again on Sheamus but this time with a 1 st prize!
Gillian McMurray on Mr Torsk...Trailtrow Tarskavaig
Lisa Allison on Rowan of Achnacarry
Final line up at CSHPC
Open Ridden Final Lineup.

9th October 2010

Well finally after updating Tiffany's page I might just be able to get this page up to date also! As always we have had a busy time with ponies and dogs showing and grooming dogs and riding and showing ponies.

We have had our problems with the ponies this year as earlier on in the year, Susie, our yearling sustained some sort of injury to her hock and it became very swollen and obviously had lots of pus in it. Despite our best efforts, it hasn't quite gone back to normal but Susie, herself is much improved and enjoying life again. I think it is something that will take time. However we have a new friend who has been coming up and riding Xanthe but he also enjoys working with Susie so he and she have been very busy, walking over poles, backing up and various other things! Our little filly foal, Maggie became unwell whilst away at Stud and contracted pneumonia. Lameness was also a secondary illness and because of both she has been on antibiotics for a considerable time. On 6th September, we took her through to the Dick Vet for various tests to see if we could get to the bottom of her illness. They scanned, scoped, X-rayed her as well as taking blood tests. They discovered which particular bug was attacking her immune system and since then she has been on strong antibiotics. She is much improved and cheerier but of course she is on antibiotics. She finishes them this coming Tuesday so we shall be keeping all our fingers and toes crossed for her. The colt foal is growing but also has a cough probably related to Maggie. As the vet explained at the Dick Vet it is rather like children going to Kindergarten and picking up all the diseases they can manage!! The colt is very cheery and has never been up nor down with his little cough so hopefully it will all disappear eventually. Both foals were tetanus vaccinated yesterday as well as having their microchip inserted. They were both very well behaved and we got the job done fairly quickly. I shall try and put some more up to date pictures of them on here. Here are a couple from when they returned from Stud in August.
Maggie Rose of Achnacarry (named after my mother, Margaret as foal was born on Mum's birthday 7th April.)
Colt Foal who was originally called Roddie has now had his name changed to Robbie,short for Roibeart Buidhe of Achnacarry) And of course...here is the hansome Ruaraidh of Mendick and hopefully we have two mares in foal to him for 2011.
Ruaraidh of Mendick Photo curtesy of Jill Vasey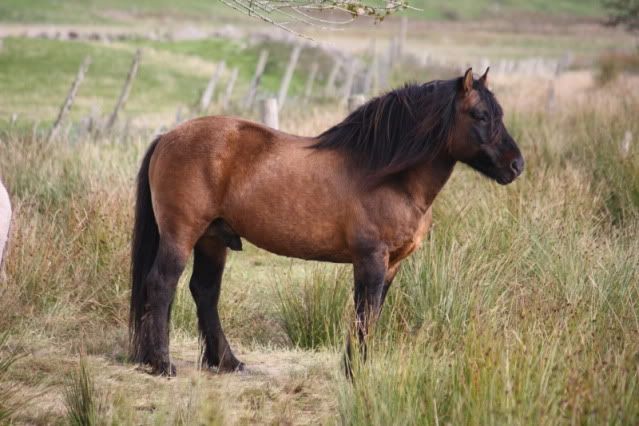 Ruaraidh of Mendick. Photo curtesy of Jill Vasey

After Kinross Show I had a Western training day where Bob Mayhew came up from down south to teach us. I took Euan along to John Fyfe's place at Blackford Road, Edinburgh and we got on pretty well practising sidepasses and various transitions. We had another training seminar on 3rd and 4th October so at least we had something to aim for!
Euan..Westen clinic in August. After that we had Blair Atholl Highland Pony Day and although we had qualified for the Final In Hand and Ridden we decided only to enter the classes on the Thursday. On Wednesday morning I washed Rowan and prepared her for Blair. I decided against showing Ellie as I thought she had lost a little weight probably due to the fact that she is still growing so at least I only had the one pony to wash. However all that day we thought that Maggie wasn't quite right and I ended up calling out the vet who immediately gave her a pain killer and a long antibiotic injection. He announced that he wanted her to be seen again the following day! That snookered our showing at Blair. However we decided that I would stay at home and wait for the vet and Tim and Jimmy would take Rowan to the show as we had arranged for her usual jockey, Lisa Allison to ride her there. The following day the vet came and took some blood from Maggie and I waved goodby to Jimmy and Tim and Rowan early in the morning. I waited all morning for a phone call to tell me what Rowan had done. It was good news. She had initially been pulled in 2nd but ended up 4th in hand under Judge, K McArdle. Jennifer Allan showed her beautifully for us. We were very pleased as it had been a very strong class of yeld mares. Later on that day I got another excited phone call from Tim to inform me that Rowan was 2nd in the under 14hh ridden class. Wow! Best she has done up there. We were thrilled as was Lisa and Moira, her Mum. Here are a couple of pics of Rowan at Blair.
Rowan of Achnacarry shown by Jennifer Allan Blair Atholl.
Rowan with Lisa on board.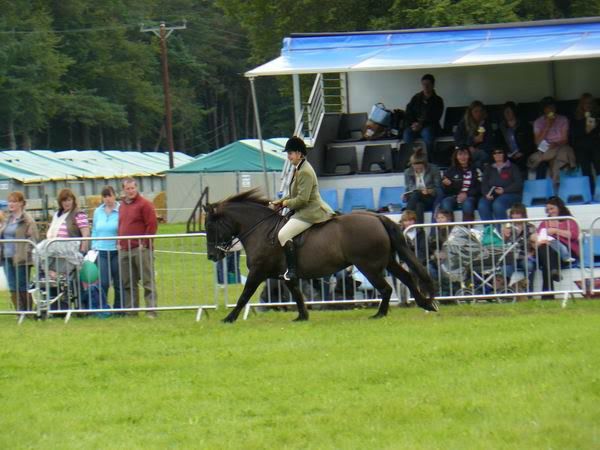 Rowan with Judge Kirsty Blackmoore on board.
Line up of Ridden Blair
Kirsty McMurray & Lisa Blair
The lovely girls at Blair!!!!
Lisa Allison on Rowan of Achnacarry. 2nd place at Blair Atholl 2010.
Torranach of Achnacarry with his owner at Blair.

There we are...at least I am getting there. Must go and see to the ponies and dogs. More later...........

Back for a little while whilst Tim is cooking !!!

After Blair there was Duthie Park but as I explained in Tiffany's page, SKC (Scottish Kennel Club_)runs its Championship Show same weekend so I have to choose between them and as there are not many Champ Shows in Scotland for Standard Schnauzers I chose to go there. Duthie Park next year!! Time for a few pictures of ponies we have sold on or ponies by Rannoch. First of all here is Achnacarry Fergie by Rannoch and out of our beautiful Fhuaran whom we lost earlier this year. Fergie is now with Alison MacKay in Lewis.
Fergie of Achnacarry on a beach on Lewis!
Fergie
His full entire brother..Fionnlagh of Achnacarry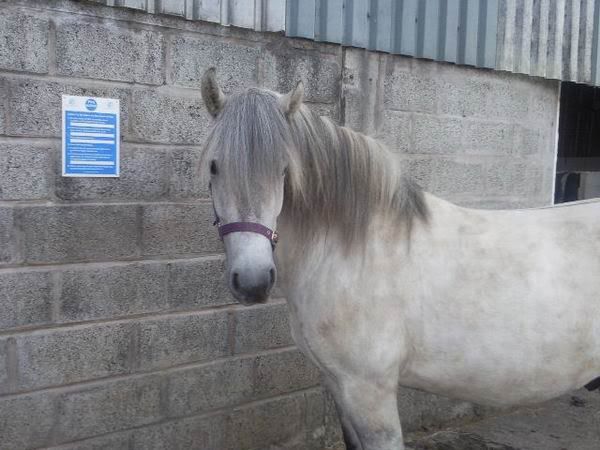 Another full brother. Fearchas of Achnacarry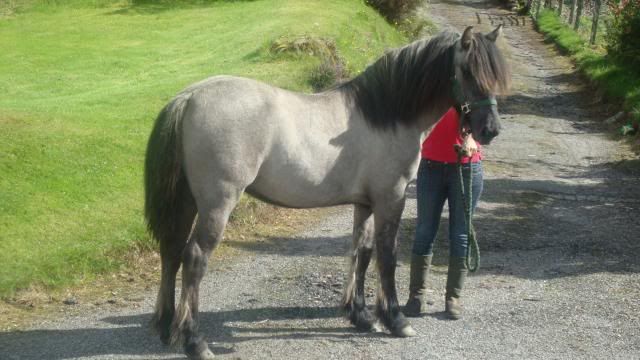 A filly Dooska by Rannoch
Teddy (Tearlach) by Carlung Fergus out of Mhairi Bhan of A
Ericht of Achnacarry (Euans big brother) by Tarka of Orangefield Here is a very nice yearling gelding bred by Kayreen Jones out of Sorrel of Sunnyneuk and by Rannoch of Achnacarry.
Garobeg Dakota aka Archie . 1st prize!!
Archie

22nd August 2010

Back again to write somemore. After the Highland Show we had Doune & Dunblane Show and had entered but decided to have a rest and give it a miss especially as my knee was still very sore. Also Kirriemuir and Braco Shows, two shows which I like but there is always next year!

In between times, we took Rosanna and Maggie, her foal and Midge and Roddie, her foal across to the Sma Glen to Connachan where waiting for them was Ruaraidh of Mendick! Considering he has had Grass Sickness he was looking absolutely splendid........in great condition and ever so handsome! Fionnalaigh meanwhile was still up at Whitefield visiting Edindurno Benromach. Here is a pic of Midge & Roddie.
Midge of Achnacarry & Roderick Buidhe of Achnacarry

In between times of course there was the Breed Show which wasn't a good show for us! Unfortunately I still wasn't too able to run with the ponies, so a friend very kindly consented to show Rowan and Rosealie for us. They both behaved and showed themselves well but we were't placed apart from Rosealie coming 6th. Rowan was also in the ridden class and although pulled in 6th place ended up 7th at the end .......so all in all a Breed Show which won't go down in history for us!!!!

The only positive place was in the pairs where Ellie (Rosealie) and Torry (Torranach now owned by the Gray family) were 2nd. Here are a few pics from the Breed Show.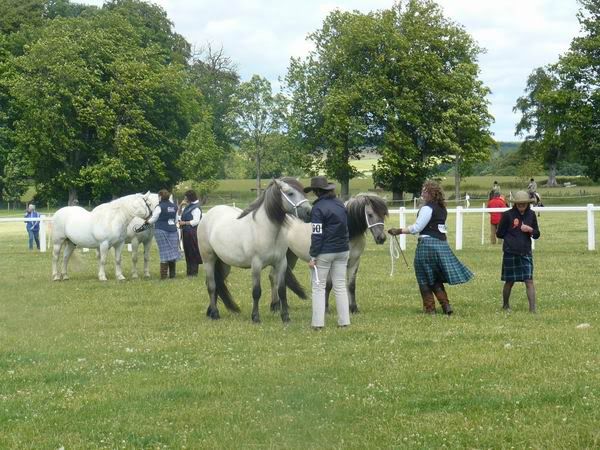 Rosealie & Torranach of Achnacarry Breed Show 2010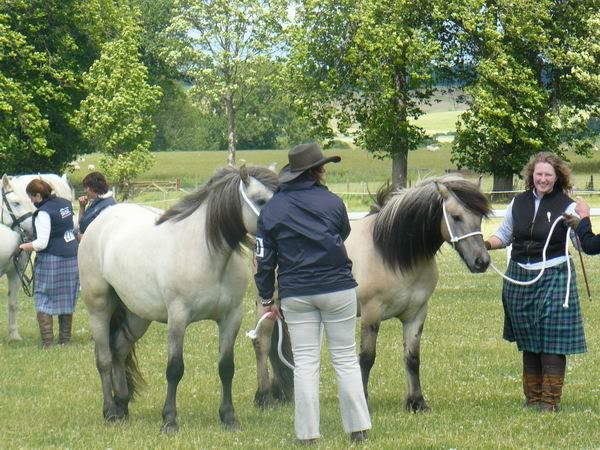 Rosealie & Torry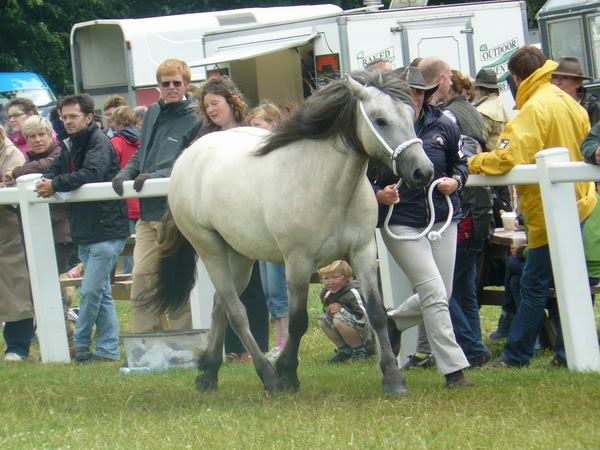 Rosealie...Breed Show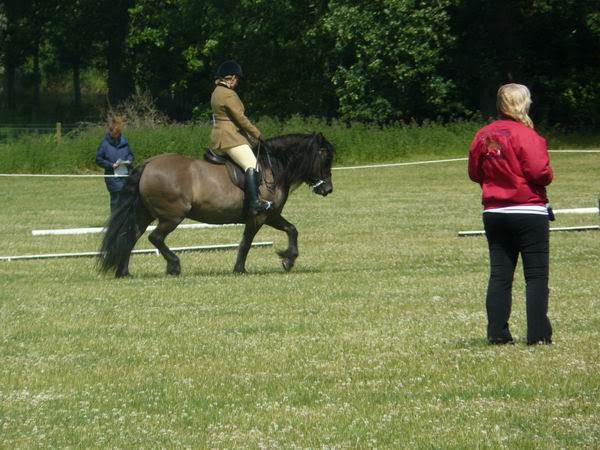 Lisa on Rowan Breed Show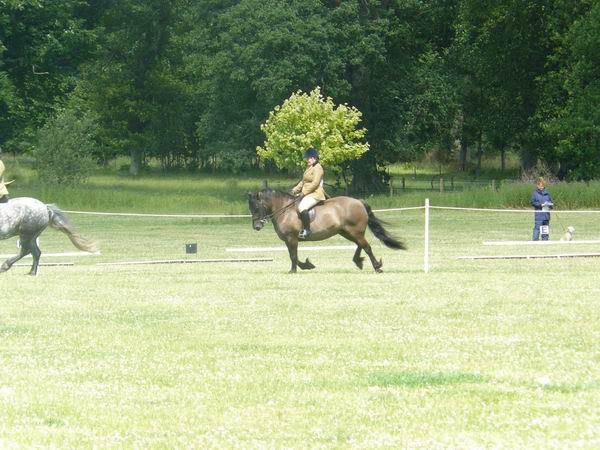 Lisa on Rowan Breed Show

That's me for tonight.......next show was Perth where we again showed Rosealie where she was 2nd.

After Perth, Kinross Show was the following week. We took Rosealie again and Rowan. Rosealie was 2nd once more and Rowan although pulled in 2nd was 3rd in hand. She was also in the ridden class partnered as usual by Lisa Allison. She won the small class and the was Reserve Champion so not a bad day.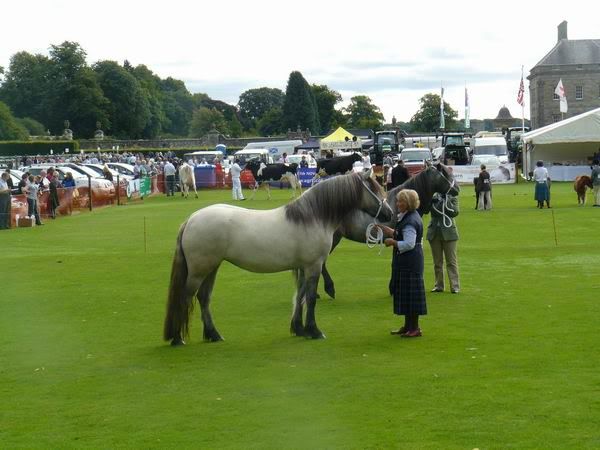 Ellie at Kinross At least I am now able to show my own ponies again.
Rowan in Hand..Kinross.
Rowan under saddle..Kinross. Until the next time............

4th August 2010

Was having web site problems due to me telling computer to block an incoming problem! However after phoning the help desk....normal service is resumed.....I hope....I am about to see if this has updated!!

25th July 2010

Today is Tim's birthday and we celebrated it by going out for a nice ride on Xanthe and Rowan. The ride was especially nice as poor Xanthe has been suffering from sore feet partly due to laminitis and partly due to perhaps cushings. However she is much better and thoroughly enjoyed herself trying to get in front of Rowan!

Anyway .......back to getting this web site up to date! Next show was the Royal Highland Show near the end of June and we took Euan and Rosealie to that. Rowan was also entered but only for the ridden class on the Friday so we returned home on the Thursday evening to bring her in on the Friday morning. Prior to me hurting my knee, I had arranged with Bruce Haliburton to show Euan as there were a couple of reasons. One was I thought his class was likely to clash with the 2 year old class that Ellie (Rosealie) was in and the other reason was that I wasn't at all sure if he would behave and with me being so small I though he might just behave better for Bruce who has the advantage of height and who is of course very experienced in showing. We arrived safely and after settling the ponies and dogs and us! in, we had a more or less peaceful night in the caravan on the Tuesday evening. That's where it all ended as far as peace went in the caravan park!!! The following day, Euan wasn't quite as settled as he had been and began to pace round and round the box...so much so that I thought I might have to take him home. However help arrived in the shape of Hugh Duncan, Presedent of the Highland Pony Society. Hugh lent us a grill to put up over the front of Euan's stable and that in fact did the trick and he was much better......thank goodness! The next morning we were up bright and breezy and with the help of our friend, Brenda soon had both ponies spick and span! We had a great day. Because my knee was extremely painful I decided not to walk back and forward to the main ring where the judging takes place so missed Euan being judged but was soon told via mobile phone (they have their uses!) that Euan had won his class!!! I could hardly believe it even although I loved him to bits and thought he had a good chance. This time I did go up to the ring when the Best Gelding was to be decided between the three gelding classes...... Euna had won the 4,5, and 6 year old class. We were all thrilled to see him being pulled out to win Best Gelding out of the Senior Class and the younger class. Many thanks to Bruce Haliburton for showing him for us and to the Judge Sheila Brooks who thought so highly of him. Also to Brenda and Bruce for parading him. Here are a few pictures of Euan and his Highland Show.
Brenda & Euan on their way up to the ring as Bruce had been showing his 3 year old gelding.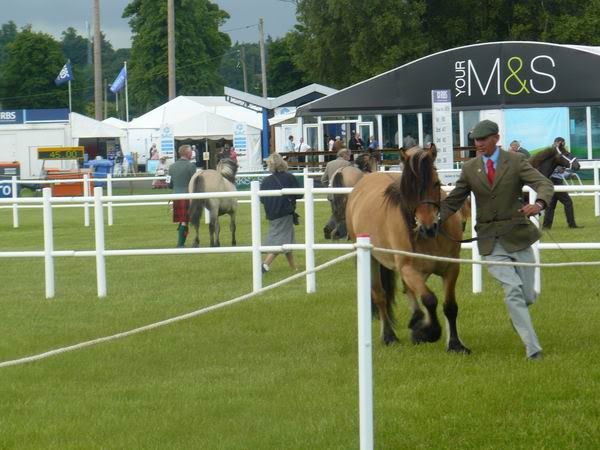 Bruce running Euan out.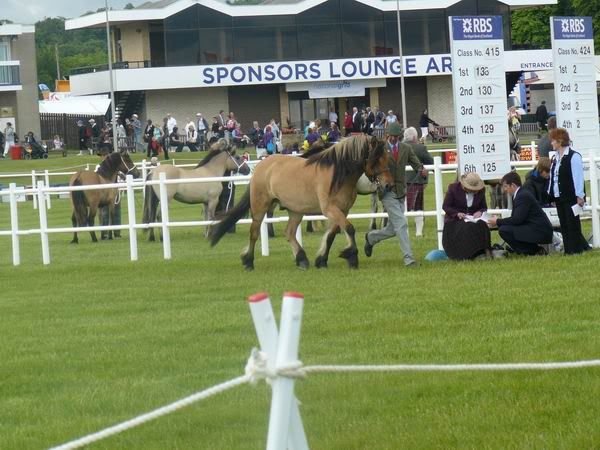 And Again....
Standing Euan up.
1st in the line up.....Euan of Achnacarry Photo ..courtesy of Lee Ann Bunn from USA.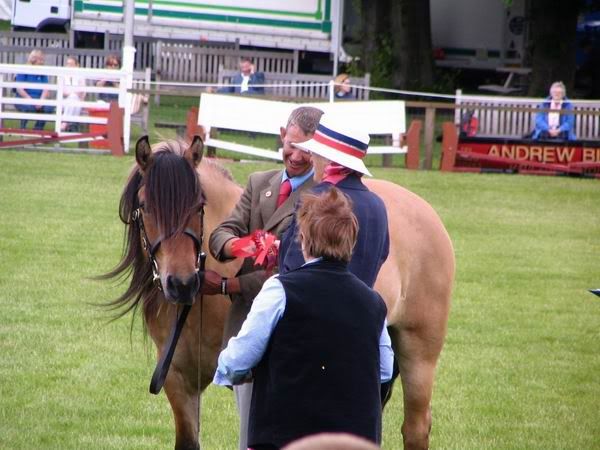 Receiving his RED Rosette!! Photo.... courtesy of Lee Ann Bunn from USA. Next are a couple of Brenda in the parade with him.
Waiting to go up to the main ring.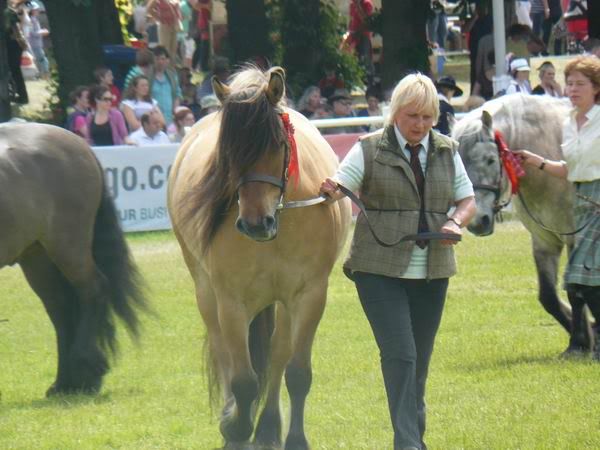 Brenda and Euan parading in the Main Ring RHASS 2010. Next was Ellie's class in which I managed to show her myself.....just!!! Our Judge was Robin Stewart and I was very pleased to receive 3rd prize from him for her. So a very good day for us. For some reason, Tim didn't take hardly any pictures of myself and Ellie!! Hopefully we may obtain some from friends as the year goes on. The following one is of her being led by John Reid, as she was a bit of a handful and because of my knee I didn't want to hurt it any more than I could so John and I swopped ponies!
So...probably not the best photo of Ellie...... That evening we drove home and washed Rowan and got her all groomed up for the next day. We left early on Friday morning and arrived at the showground in plenty of time. She was partnered by her usual Jockey, Lisa Allison who rode her well. Our Judge was Lizzie Bryant who was a neat rider which Rowan needs considering she is only 13.2hh or there-a-bouts. We finished up in 6th place out of 17 entries ....so once again we were very pleased and happy. Here is a piccie of Rowan and Lisa.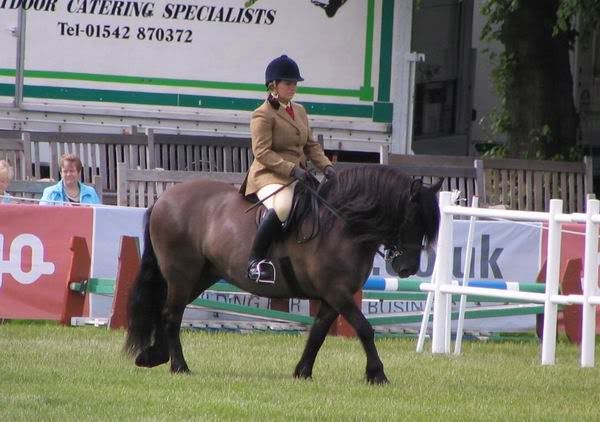 Rowan and Lisa at RHASS 2010. Photo...courtesy of Lee Ann Bunn USA. Our other claim to success was that Echo of Achnacarry owned by Bruce Haliburton and ridden by Pam Brown was 2nd in the over 14hh class Open Ridden, but ended up Overall reserve Ridden Champion to Trowan Moulin. Yippee!! Many Congratulations to Pam, Bruce and of course Rose. Below are a few pics of Pam, Bruce and Echo at the Highland Show.
Echo of Achnacarry ridden by Pam Brown Owned by Bruce Haliburton.
Echo and Pam
Echo and his mane!!!!!!
Waiting to be run out in front of the Judge. And I couldn't finish my report of the Highland Show without showing this photo of Jimmy, Brenda's Dad and our friend and great dog walker and Jack of All Trades!!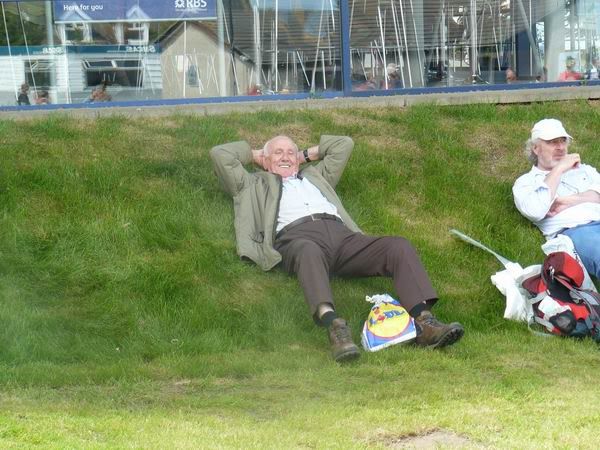 Jimmy relaxing at the Highland Show!!!!! It was such beautiful weather this year it made all the difference to us all and I don't think there were many complaints.

8th July 2010

After the Spring show our next show was Central and West Fife as when Fife Show was on I was in Edinburgh showing my Schnauzers!! See Tiffany's page for report.

Just before West Fife show I had the farrier out to do some parings and because I needed some of the mares done in Rannoch's field I took him out after he had had his feet done. Reason being that usually when I put a headcollar on a mare Rannoch thinks I would like him to cover said mare in hand! So to save a lot of hassle I usually put him inside whilst the mares are having their feet done. I lead him out of the field and round the back and whilst doing this .......... suddenly my right foot went away from me and an excrutiating pain hit my leg. I couldnt put any weight on it at all and felt very faint. Luckily the farrier came and put Rannoch inside whilst I sat down with my head between my knees. To cut a long story short I didnt get any better and looking back on it now, I should have gone straight up to A&E. Instead I chose to borrow a friend's crutches and hobbled around for a week. Over 4 weeks later my knee is still very sore and I really need to go and see a Doctor or a Physio. Anyway off we went to West Fife Show with only Rowan as I knew I wouldn't be able to run with Ellie the 2 yr old and doubted whether I could even show Rowan. I was right on this and Tim first of all showed her in hand and then had to ask Bill Allan to take over. Heather Gow was our Judge and Tim and I were thrilled when Rowan was eventally Champion In Hand, especially as she had been Reserve Champion the previous year. She was also ridden by Lisa Allison but was rather lack lustre and ended up 4th. It was a very hot day and Rowan's colour doesn't help . She always wilts in very hot weather. Still we had a super day and went home with the lovely In hand Trophy which we have won before with Fionnalaigh as a yearling. Here are a few photos of our day.
Lisa and Rowan in the Overall M&M In Hand Championship.
Rowan & Lisa Ridden Class. Judge: Jo Jack.
Running out in the Ridden Class After West Fife Show the following week we had Drymen Show and this time we took Euan and Ellie (Rosealie). It was a lovely day to begin with but deteriorated as the day went on. However the showing went well under Judge: Pat Watson with Ginny Osborne probationing. The classes were reasonably filled and Euan's class was first. It was a good class and although Euan was slightly better behaved in that he didn't whinny too much!!! he was 5th. I think he probably was too big for Pat and perhaps not as tradional as she likes. However Rosealie showed herself off well enough and trotted out well and although pulled in 2nd at first ended up 1st so we were pleased with that. I attach a few photos of our day. I also showed Sophie in the puppy class where she was 5th out of about 22 puppies so that wasn't too bad!!
Euan & I Drymen Show.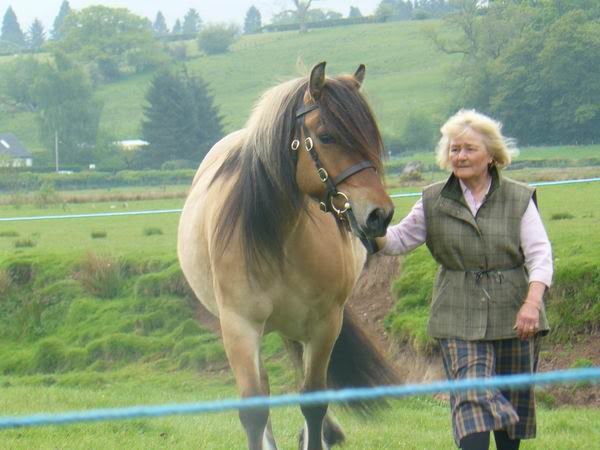 Euan & I Drymen Show
Rosealie & I Drymen Show

7th July 2010

Well....here I am again!! At least I am on the case of updating the site. Reading below I need first of all to report on the birth of Midge's foal and add pictures and also put on the photos of Rowan & Euan at CSHPC Spring Show. So, first of all here are some photos of our day at the show.
Aly Munro & Burnside Victoria at CSHPC Spring Show.
Eleanor Steven & Glenbanchor Somerled CSHPC Spring Show.
Euan & I CSHPC Spring Show
Euan & I again
Rowan & I and Hugh Duncan judging the Champion of Champions
Rowan & Sheamus CSHPC Spring Show Champion of Champions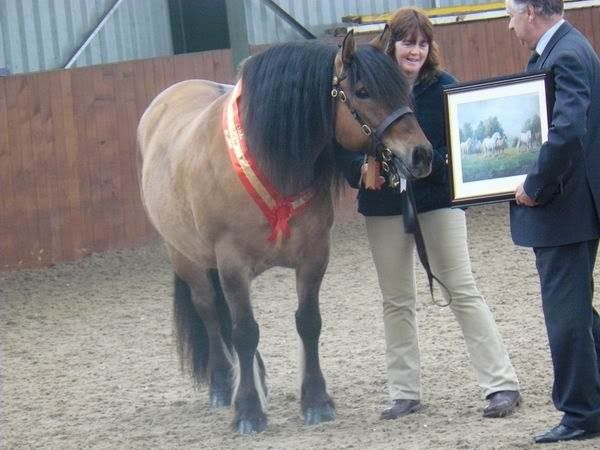 Pipped at the post by Irene Grant & her Sheamus of Inverdarroch. Winners of the Champion of Champions CSHPC Spring Show 2010. Next to report was the birth of Midge's colt foal by Glenmuir Lochaber. Midge foaled easily and at a good time of day....around 9.00am...very good of her!! She even cleansed herself which is amazing considering she hasn't managed to do this in years!! I put it down to her foaling in a nice quiet part of the field with only Rosie, her daughter and her foal for company. Midge is now 17 years of age and looks amazing and we are extremely pleased with her colt foal which I am going to call Roderick Buidhe of Achnacarry. Buidhe means yellow and I am pretty certain that he will be yellow dun, but no doubt once his foal coat comes out I will know for sure! Below are a few early photos of him. As he and his mother are away at Stud at the moment I will have to wait for more up to date photos once they return. A quiet moment.........
Midge's lovely choice of part of the field to foal in.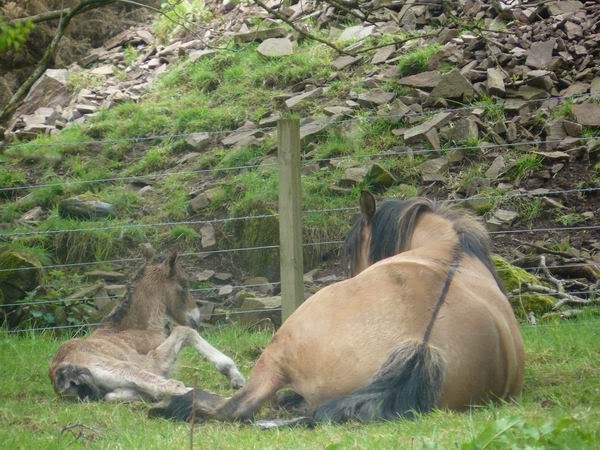 Roddie just born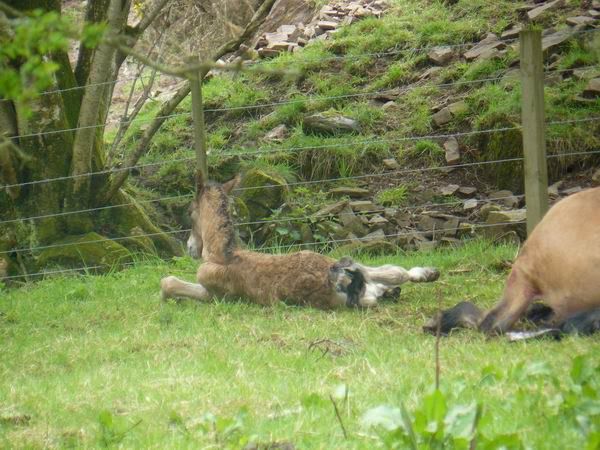 Roddie
Trying out the feet!!
Roddie
Roddie
This one is a favourite of mine. Lazy Midge & clever Roddie
Managing a "Sooke".....
Sweet Dreams!!!!! Here are one or two of Maggie also.......
Maggie Rose of Achnacarry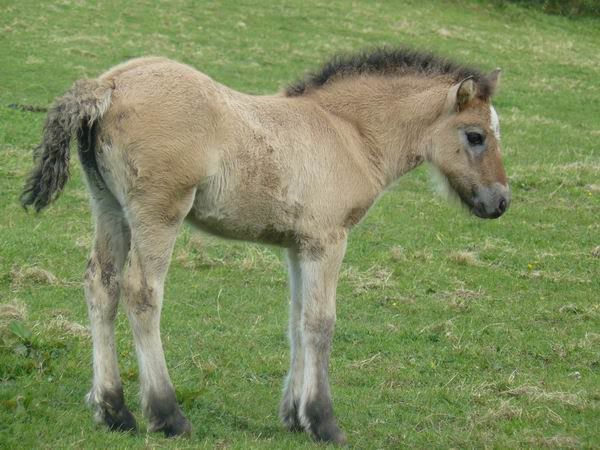 Maggie
Maggie Right....that's a start. Time for bed as I have to be up early tomorrow and have to be at Strathallan field for 10.30am to help set up rings etc. in preparation for the HPS Breed Show to be held on Sunday 11th July 2010.

8th May 2010

Here I am at last!! Can't believe I haven't updated this site since February! We never seem to have a minute these days..think we are trying to do too much in addition to looking after all the livestock!

Anyway I shall start with February and try to condense our news. One thing that happened in February was my Birthday!! 21 again! Tim took me out for dinner and a very nice time we both had. Next was the departure of our lovely two year old gelding, Torranach out of Mhairi Bhan x Tarka. However I am delighted with his new home and know that he will be much loved and well looked after. He has gone to the Gray family who live near Grantown on Spey and they already have a relative of his in the shape of Duncrub Nesta who is out of Fruin of Orangefield (Fruin was Feolin's daughter). We owned Feolin for some years having been gifted her by Bert MacRae, her breeder. Torry seems to have settled in well and here are a couple of pictures of him after being collected...bearing in mind that the North of Scotland was still in the grips of winter.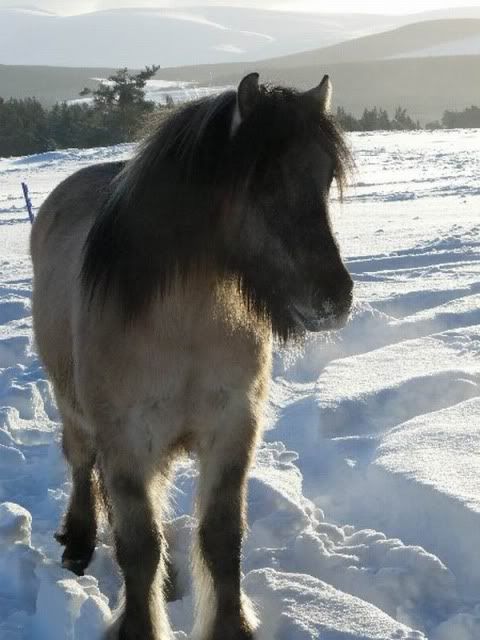 Torranach at his new home.....No sign of grass!!!!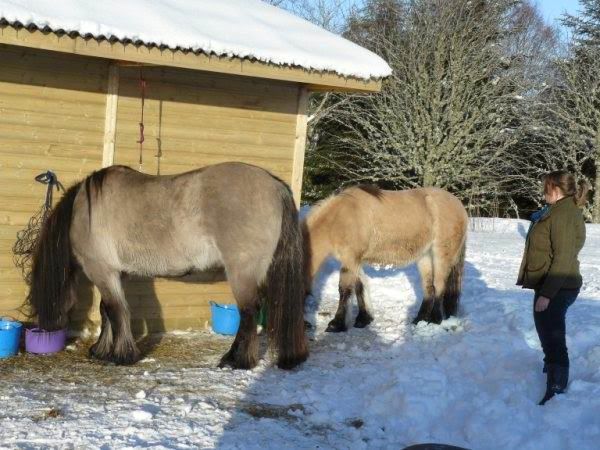 Torry just behind Duncrub Nesta. On a very sad note we lost our beautiful Fhuaran of Orangefield on Monday 22nd February. She had melanomas and unfortunately they became very aggressive perhaps due to her being in foal. The vet gave us antibiotics for her and for a while they helped but towards the end they just came back more aggressively and unfortunately we had no option but to have her put to sleep. It was doubly sad as she was 9 months pregnant. Fhuaran came to us from Bert MacRae and we have had a lot of fun with her. She was unbroken when she arrived and one day I decided to lie across her back and as she was completely unfazed by that I popped my leg over her back and that was that. She got a saddle on and off we went! When she wasn't having foals she was ridden. We also showed her very successfully and we had the pleasure of her winning the Championship one year at Doune & Dunblane with Fionnalaigh foal at foot. Below are a few photographs of her. Rest in Peace Fhuaran.
Fhuaran with her mother, Feolin and her foal Fionnalaigh.
Fhuaran & Fionnalaigh
Fhuaran.. Champion at Doune & Dunblane Show with Fionnalaigh at foot.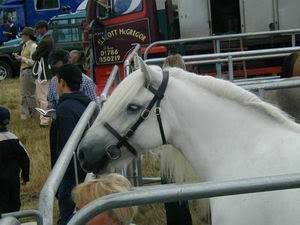 Fhauran of Orangefield at Doune & Dunblane Show.
Fhuaran and I happy on one of our Grass Sickness Rides.

Next we are into March and the first thing on our schedule was The Glasgow Stallion Show which was held at the new venue in the Stirling Market. We took only Fionnalaigh there and although she was one of the hairy ponies amongst smooth ones she was 4th in her class which was not bad considering! She was a good girl and travelled well and generally behaved herself! Unfortunately we didn't take our camera there so have no pictures of her. The show was was reasonably attended although the Stallion Parade was very disappointing with only four stallions forward. Where they had to parade was also very disappointing as far as I was concerned.

Next thing after that was we were off to Crufts with the dogs. We took Sasha and her brother, Alfie who belongs to Dougie & Agnes Smith. News about Crufts will be on Tiffany's page once I write it up!!!!

Next we are into April leaving the snow behind and the first pleasant thing that happened was that Rosanna (Midge x Tarka) had a lovely little filly foal. As she foaled on my mother's birthday (7th April) I decided to call her after Mum who was called Margaret. She is called Maggie Rose..the Rose coming from Rosanna. Rosie foaled 11 months to the day and as the weather had been pretty cold we decided to bring her in in the evenings so she foaled inside for a change. All went well and Rosie cleansed in around an hour. Maggie is now 4 and a half weeks old and a very fit, lively foal. Here are a few pictures of her a few days old and a few of her a couple of weeks ago.
Maggie Rose of Achnacarry...by Kestrel of Glencree x Rosanna of Achnacarry
Maggie Rose
Maggie exploring!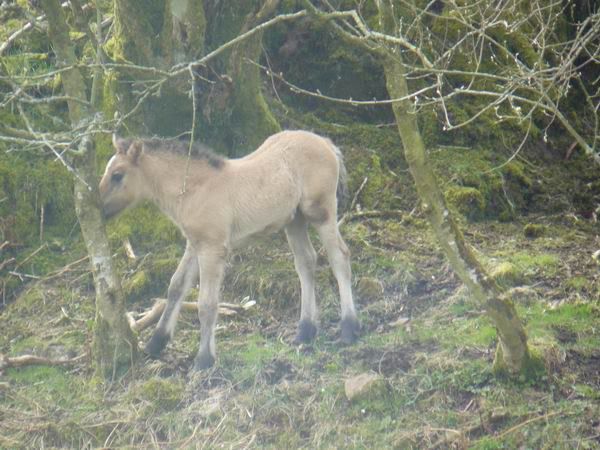 Maggie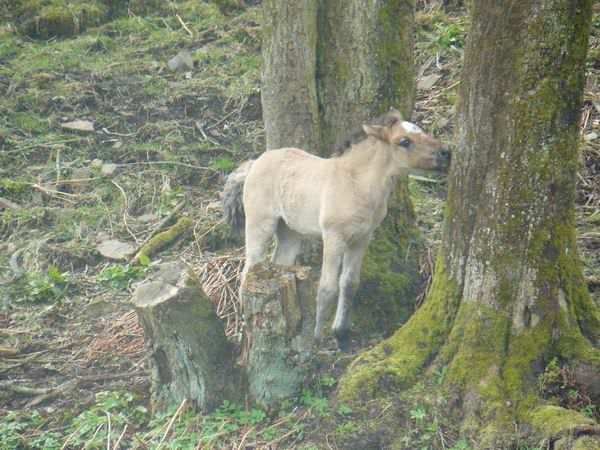 Maggie
Maggie relaxing..
Rosie & Maggie
Maggie.. Just last weekend we had our Annual Grass Sickness Ride which is now in its 15th Year. As usual we had dry weather and we were also fortunate to have a great turnout of ponies and riders and various other helpers. There were 28 ponies altogether and as usual, the ride was divided into two, one for young ponies or for riders who just like to look at the scenery and chat!! The other ride is slightly longer and usually goes round and into the village where they have a pub stop for a refreshment! It all seemed to go well and there were lots of new faces which is always a good sign in that Highland Ponies are in good, safe hands for the future. We collected as usual for GS and this year along with a contribution from Isy Fiest through the sale of her lovely Organic Eggs....we collected £412 altogether and no doubt we shall receive our Certificate as usual from Joyce at The Royal Dick Vet College....and as usual we will pin it up in the Barn beside the rest. Here are a few pictures of the day. They have been taken by various folk, some with our camera and some I have "borrowed"!!
The picnic Spot
Chatting!
Tim and Euan enjoying a cream cake!!!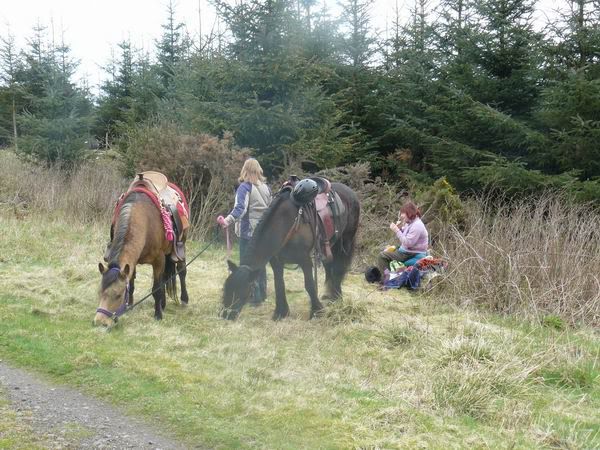 My Western friends, Kayreen & Irene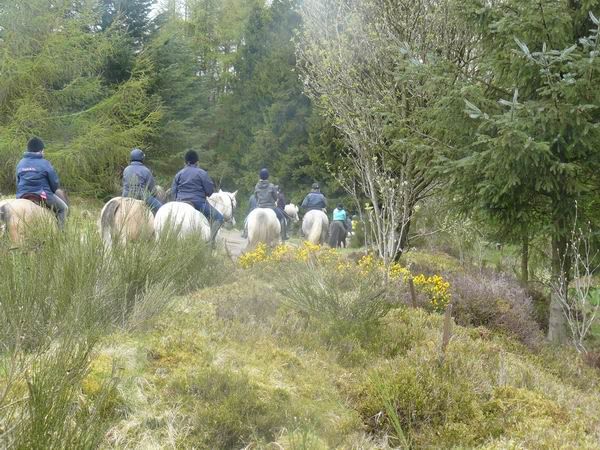 Riding up through the woods
These may last years ride!!!!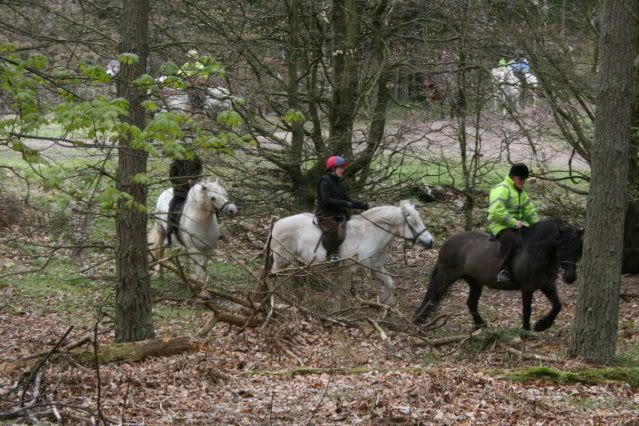 Tim&Rowan & Louis& Skye. Pics by Scott Davidson.
2010 Ride Out. Pics by Scott Davidson.
Ride Out. Pics by Scott
Coming Home. Brenda & Xanthe. Behind Jennifer Valentine on Aigas and myself and Euan.

One day a couple of weeks ago, my friend Karen came up to ride out with me and Rowan. She had had to have her horse Melly put to sleep due to old age, and as she was lost without her, she bought another one. This new horse was called "Chillie" but Karen changed her name to Millie!! Anyway they came up and rode out with Rowan & me. Here is a piccie of Millie.
Millie a pure Clydesdale approx 16.1hh.

Gosh...that is me almost up to date!! We have another foal due anytime. I say anytime because Midge was due around 28th April but so far............ nothing! However she is beginning to grow an udder so it is on its way!! When it arrives I shall report on it.

TODAY.......was The Central Scotland H P Club Spring Show. This is a new show held locally so we couldn't NOT go!!!! Although the ponies' coats are not right out yet we decided to take Rowan for their Champion of Champions' Class and Euan for the In hand young gelding class. The show was actually very well supported except for the 2 and 1 year old classes. We were delighted to be awarded 2nd prize with Euan who actually behaved himself much better than usual! Perhaps because he couldn't hear Rowan whinnying due to the fact that the show was inside the very large indoor school and a good bit away from the trailer. So...well done Euan!! Afterwards we took Rowan into the Champion of Champions' class which actually had been postponed from the 2009 show due to the rainy weather. Our Judge for Euan's class was Jean Ralston making her debute into the Judging World! Judge for the other was Hugh Duncan all the way from Turriff. We were pulled in first to begin with so can at least claim that piece of fame!! However after the ponies had all been run out Hugh pulled in Sheamus of Inverdarroch into 1 st place and Champion and Rowan was Reserve Champion. We were still pleased as Sheamus is by our Rannoch of Achnacarry and bred by Bruce Haliburton and owned by Irene Grant. Congratulations Irene. I think Tim took some photos of some parts of the show so once he downloads the photos I shall add some on here. Almost forgot, Rowan was also in the Open Ridden Class and although she went very well for her usual Jockey, Lisa Allison she refused to gallop for the New Judge, Marjorie Grant also making her debute, so went down from 1st to 2nd place changing place with a delighted young lady on Oscardene. Well........That is me for the moment. At least all the "Folk"!!! who read this diary will be pleased and stop nagging me to update it!! So.......... Until the next time..............

15th February 2010

Just a wee extra bit of some ponies either bred by us and sold or foals

by Rannoch received from various friends.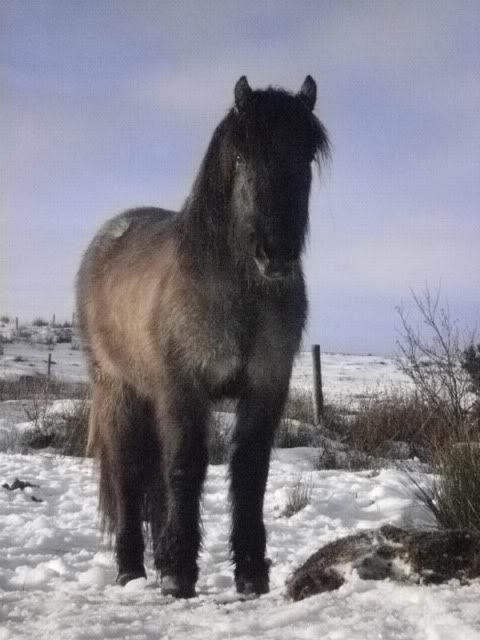 Fergie by Rannoch out of Fhuaran now on the Island of Lewis
Aigas by Tarka out of Rowan . He is at present on Islay but has been sold.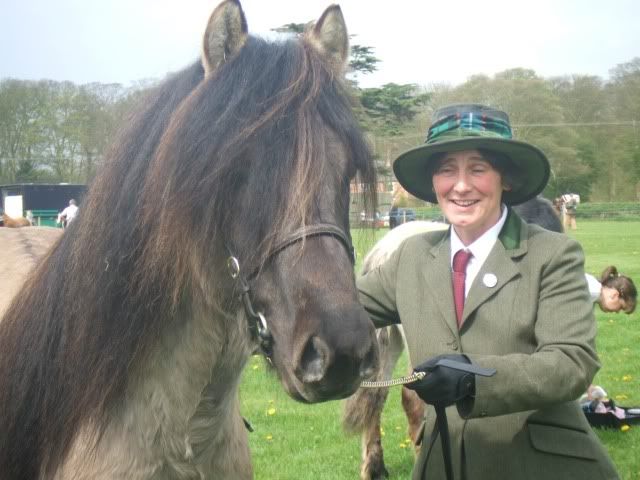 Cameron of Castlegreen bred by Alison Payne by Cameronina of Tower (By MacGregor of Achnacarry)
Elphin of Achnacarry by Tarka out of Corrie Bheag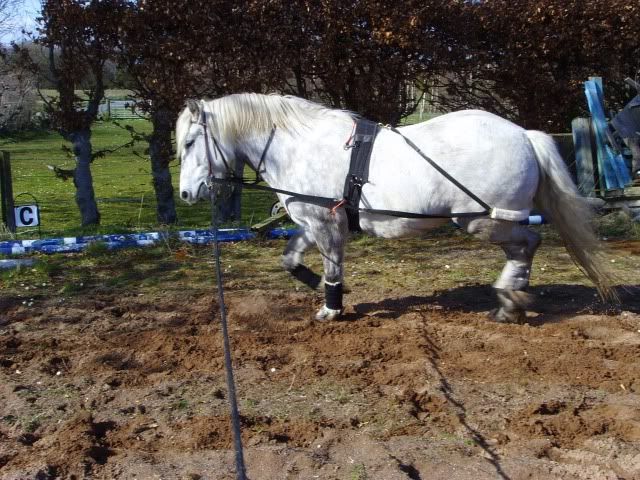 Ember of A Full brother to Elphin
Fearchas. Full brother to Fergie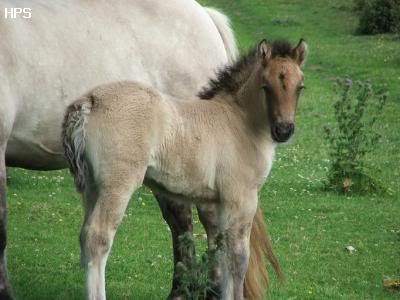 Kayreen Jones' foal Dakota by Rannoch
Ian Crichton's foal (Ben Alder Estates) by Rannoch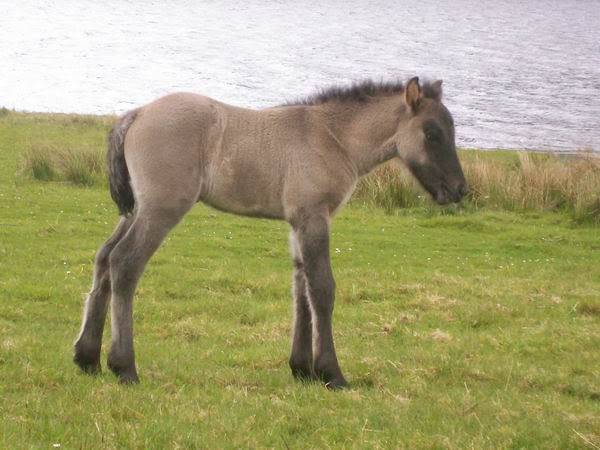 Ian Crichton's foal again

7th February 2010

Well here we are into a New Year and having had snow and lots of it we can tackle anything now!! The last time I wrote this up we had had our Foal Shows and were about to let our filly foal out again along with her friends after she had had her tetanus jag and microchip. We achieved all of this and after having had some handling we decided to put the 2 year olds and yearling , as our filly foal is now out during the day and in in the evenings partly to save the grass and also help with the handling. It has worked well and below are some piccies of them all some just after they had been let out and others of them in the snow.
First day out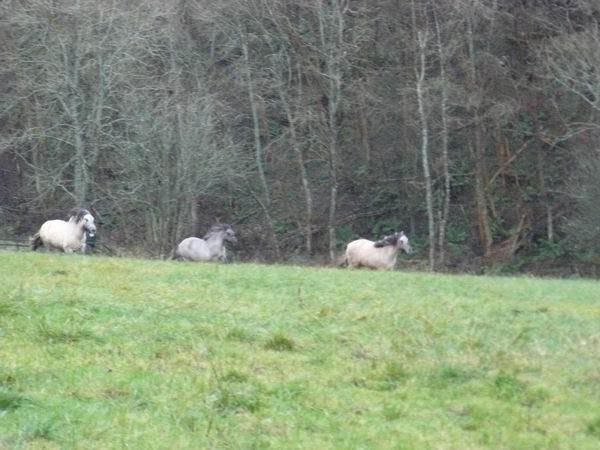 All three rushing back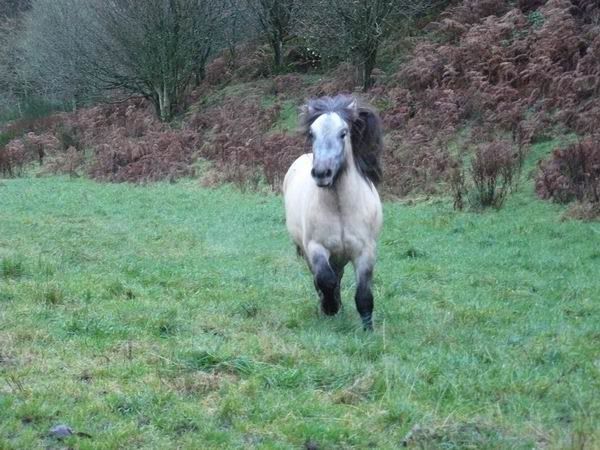 Delighted Ellie. (Rosealie)
Happy Torry
Siusaidh grazing happily
Siusaidh again
Siusaidh again!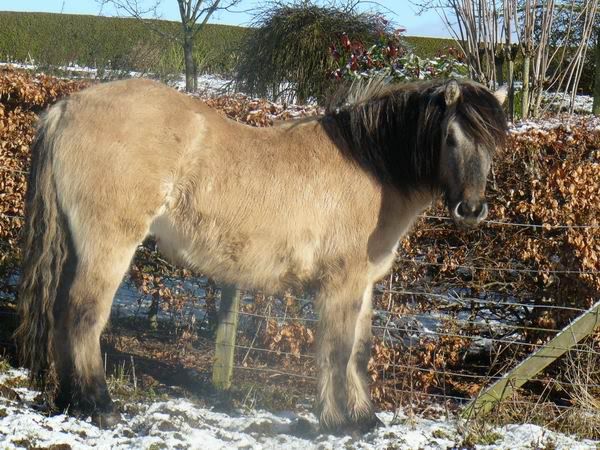 Torry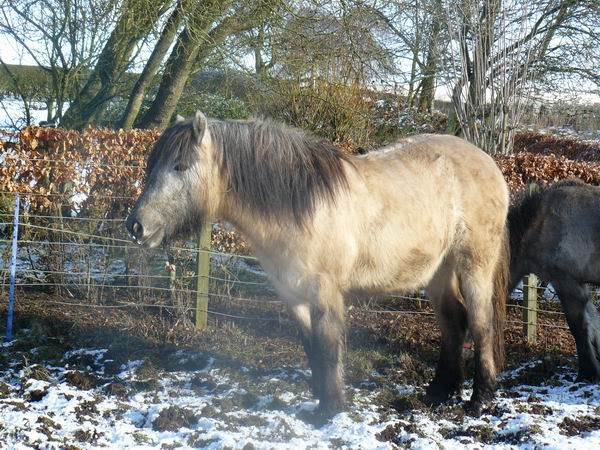 Ellie

What else has been happening? Not a lot! Mainly because by the time we put the youngsters out in the morning, muck out their bit of the barn, bed it down again, fill up their buckets with water, fill up their hay rack, feed Rannoch and Meg who also come into another part of the barn, the morning has gone!! We haven't ridden for months again because of the snow, then when it eventually went it left ground that was either too slippy for riding or it was absolutely freezing which certainly doesn't endear us to ride these days!!

All of the ponies are well with the exception of Fhuaran, who looks well enough but she has horrendous melanomas under her tail and on her backside. One day I found them leaking and rather smelly and as the vet was out to jag some of the other ponies I let him have a look at her. He wanted to see if she was still in foal as this may have made a difference to her fate. Unfortunately she was so bad we both decided that perhaps her day had come. I therefore contacted them again after I had a week to think about it and also contacted the knacker to come and do the needful. However, this time it was a lady vet who came out and after examing her she suggested that we took a blood test to see whether she was still in foal, which we did. She also suggested putting her on antibiotics which we also did. I contacted the knackers with relief and cancelled them. The good news is that Fhuaran is still in foal, also the antibiotics cleared up her discharge and all is more or less well. I say more or less as she has just a few days ago her discharge started up again. However we shall put her on antibiotics once more and keep our fingers crossed that she keeps well until she foals. If all is well we shall retire her from breeding which is a shame as she breeds well but unfortunately one day her malanomas will take over completely.
Fhuaran of Orangefield. Age 19 years.

So we look forward to the Spring and new foals on the ground and also hearing from the various owners of mares who visited Rannoch last year. In 2009, Rannoch had 10 foals on the ground and this year I think there should be around 5 due to other owners. All very exciting.

We hope to show at the Stallion Show also on March 6th to be held at the new Stirling Mart once again. We have entered our 2 year old, our yearling, and a yeld mare. From these three we will choose two hopefully to take and show. The following week we are off down to Birmingham to Crufts with Sasha, our younger Schnauzer, mother of the puppies born in September, and also her brother, Alfie who qualified for the first time at the SKC Championship Show at Ingliston in August 2009. His owners, Dougie & Agnes have kindly agreed that we can take him and show him for them. However more of that on Tiffany's page. I shall put a few pictures of the ponies in the snow ......Here they are...
Tarka of Orangefield. Aged 14 years.
Meg of Achnacarry. Aged 26 years.
Munching ponies.
The youngsters foraging.
Rannoch of Achnacarry. Aged 9 years.
Torry cantering in the snow.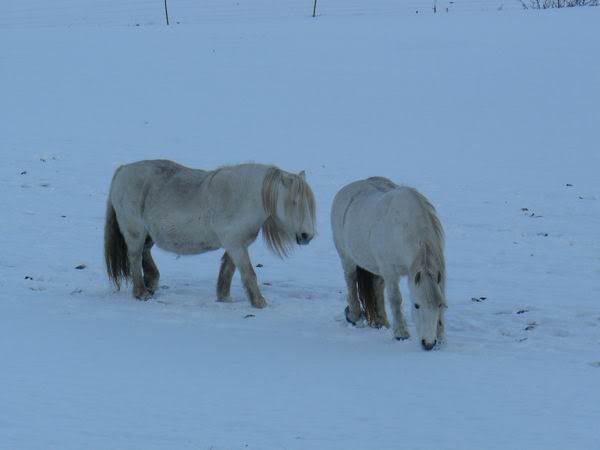 Syke & Fhuaran . Both 19 years old.
Rosanna (Rosie) Aged 5 years.
The two 2 year olds!!
Rosie & Euan. 5 years & 6 years.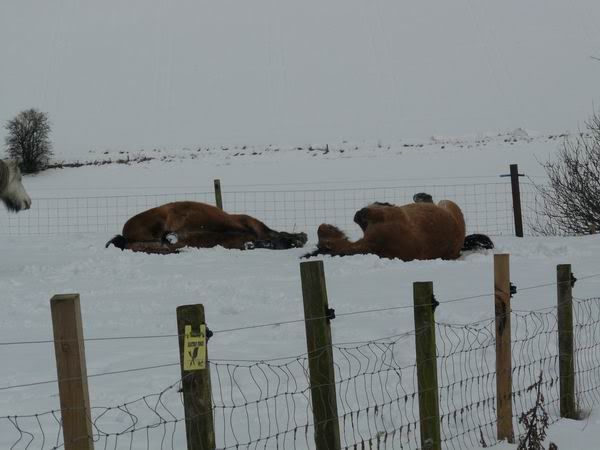 Ponies rolling in the snow.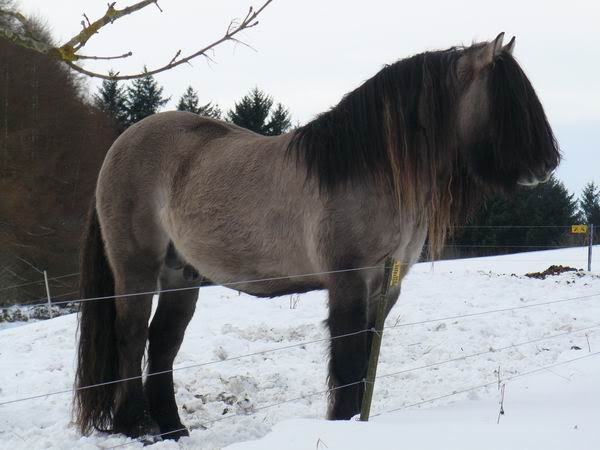 Rannoch again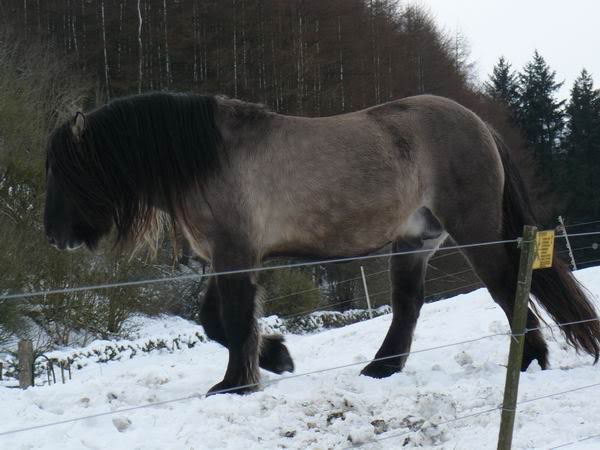 Rannoch again
Some sheep belonging to Alex.

Forgot to mention that we visited Aberfeldy just before Christmas and there we saw Fionnlagh of Achnacarry who is now rising three years old and belongs to Donna & Megan Pringle. He was looking very well indeed and I was very pleased to see him looking so. Here are a couple of pictures of him.
Fionnlagh of Achnacarry. Rising 3 years old.
Fionnlagh of Achnacarry. Cameron of Dull is the yellow dun.

That is about me up to date for the time being and as it is nearing dinner I shall close for now.

Until the next time.............

24th January 2010

Happy New Year to all who read our web.

6th December 2009

Here I am again to update with the latest!

Last Saturday we went to the Winter Fair which was held in the new Market at Stirling. It actually didn't take us too long to get there and we took only our yearling, Rosealie of Achnacarry. She travels well on her own and behaved well in the ring when I showed her. The entries in general were much improved from previous years and our Judge was Sheila Brooks. We were pulled in 3rd to begin with but after walking and trotting up and down we were pulled in to 2nd place which delighted us. I hope to add a piccie once I get one! Here it is..with kind permission from Deedee who lives on Islay! Thanks Deedee.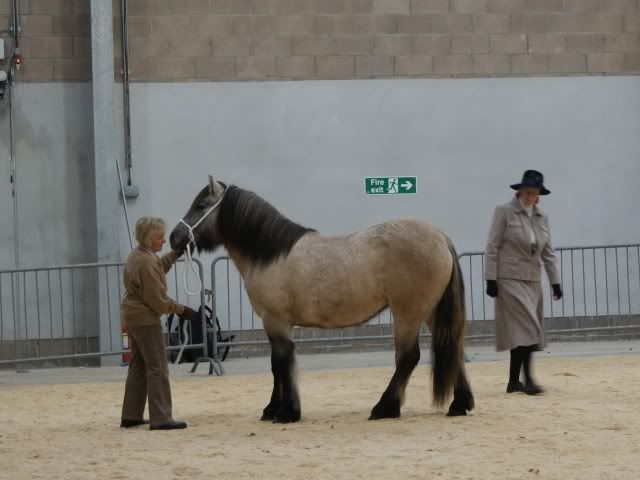 Rosealie of Achnacarry By Tarka of Orangefield Out of Midge of Achnacarry Champion of the Winter Fair was Willie & Jennifer Allan's filly foal, Milady of Millfield by Glenmuir Lochaber out of Misty 11 of Millfield. Reserve Champion was George Baird's gelding, Whitefield King Queole, by Lancelot of Whitefield out of Whitefield Queen Fairy. Ellie has had 2nd prize every time we have had her out with the exception of The Royal Highland Show where she was 4th out of 21 entries!....Oh and of course today!! We took her to Tayside Foal Show at Forfar. It wasn't one of our best days and we ended up 6th out of 7 to begin with then final placing was 5th. Our Judge for today was Sandy Baird. Champion was Heather Gow's yearling filly, Westray of Alltnacailleach, by Donald of Shiehill and out of Kilda of Alltnacalleach. Reserve Champion was S & R Kidd's gelding, Burnside Vorlich by Moss-side Iain Mor and out of Burnside Quintessa. Champion Foal was Susan Skea's colt foal was Marnonwells Majestic, by Darrochdene and out of Marnonwells Cara. Here are a few pics from today.
Rosealie of Achnacarry. (1 yr old)
Rosealie (Ellie)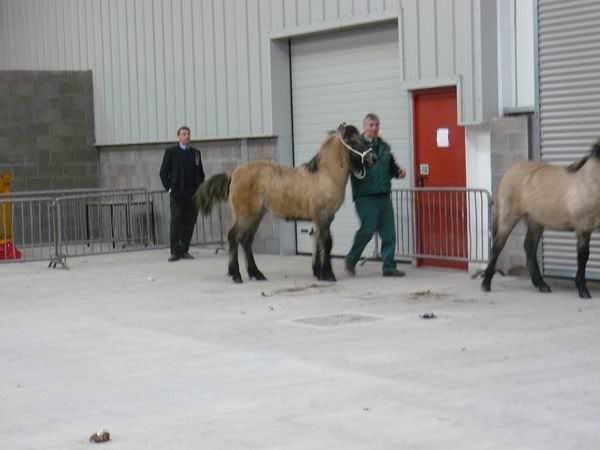 Makaila of Millfield Sire: Rannoch of Achnacarry Dam: Millfield Morning Mist

That is the last of our winter shows and we are off down to Olympia from 17th December until 22nd December. Olympia is on 21st December and we are going down to support Echo of Achnacarry ridden by Pam Brown and owned by Bruce Haliburton. We are also taking the opportunity to visit and stay with Tim's sister and brother in law and also his son, David.

Siusaidh, our filly foal has now been microchipped and had her first tetanus jag. She is now much friendlier and we hope to put her and the two yearlings out during the day and bring them back in at night...mainly to help the ground as they will be going into a wee field that has loads of grass and I don't want it trashed. Photos will follow....hopefully. Until the next time............

21st November 2009

Just a short update to say that Tiffany's page has been updated with all the piccies of the puppies and their new owners. I can hardly believe that they have all gone. Perhaps the ponies will now have some attention as the puppies took up a fair amount of time. Last Sunday we brought in our filly foal with Torry for company as she needs to have her microchip inserted as well as her tetanus injection. We managed to get her headcollar on and groom her and she is gradually becoming very friendly. I am sure with all the rain that we have been experiencing she will be quite glad to be indoors!

A fortnight ago Tim and I were up in Abedeen where I was judging Highland Ponies at the Aberdeen & District Welsh Cob Association. I thoroughly enjoyed myself and I had a good selection of ponies there. We hope to go to the Winter fair on 28th November with Ellie our yearling filly and also to Tayside Foal Show the following week with her again and also Siusaidh our filly foal....all being well. That is my short update.....more to follow later..... Until the next time.....

20th October 2009

Just some more to update.

The Highland Pony world mourned the death of well know and loved breeder, Elizabeth Compton who died earlier this month. Tim and I attended a Service of Thanksgiving yesterday, 19th October along with many, many others. Her two daughters, Maggie and Alison gave a good account of her life and many achievements and afterwards we retired to Ward of Turin for tea and sandwiches. We caught up with old friends and afterwards I thought how pleased Elizabeth would have been to have seen so many of her friends there. She has left a legacy through her ponies in the capable hands of Hamish Cameron and her family and we are proud to have bred Rowan of Achnacarry sired by Glen Aigas whom Elizabeth owned for many years.

I remember my first time at Fife Show in 1964 when I showed my gelding, Drumloist Jock and Elizabeth was the Judge. He was Highly Commended and for that I received a card with a pink ribbon. I have it yet!!

With all the shows finished now we should have more time to do other things!! The ponies are all beginning to grow their coats and I don't blame them as today especially there is a chill wind blowing. I need to get a move on now and bring Suisaidh, our filly foal in and handle her more to prepare her for her tetanus jag and also her microchip.......all before end of November! Where does the time go? Here is a piccie of her taken a couple of weeks ago.
Siusaidh May of Achnacarry Sire: Glenmuir Lochaber Dam: Fionnalaigh of Achnacarry

The other thing I did a couple of weeks ago was to get Rannoch out of the field and climb back onto his back. Although he was well broken three years ago by Pam Brown I just seemed to be riding Rowan or Euan then Rannoch would be covering mares in the summer. Anyway it was as if he had always been ridden, he collected straight away and seemed to enjoy it. I now have to keep him going which may prove more difficult! Here are a couple of piccies.
Rannoch looking hopeful!!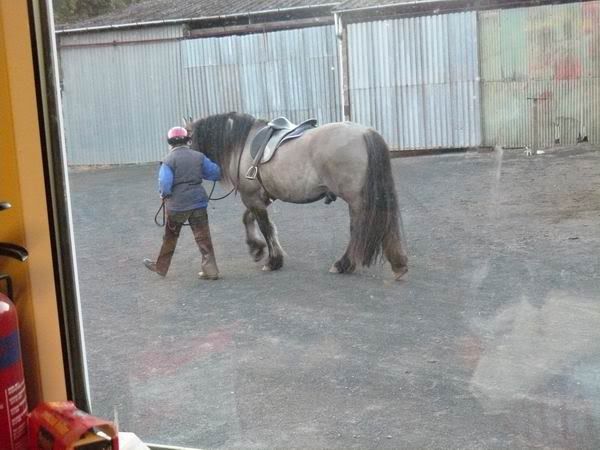 Leeding him first of all!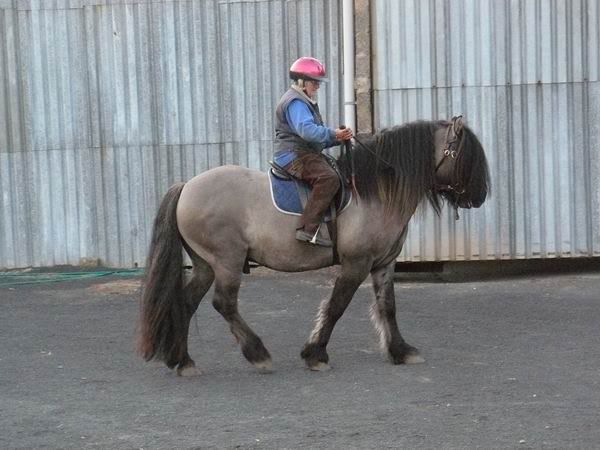 In the yard walking out well .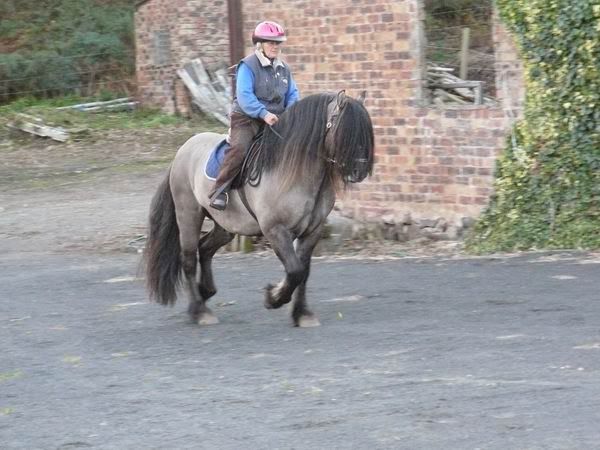 Rannoch trotting.

That is about all at the moment....life is never dull at Pitmenzie with ponies, puppies, and dogs. Tim and I will be celebrating 17 years of marriage on Friday 24th October.....so that's not bad going!!!

Until the next time.............

30th September 2009

Here I am again. We are now at Kinross show report! We took Rowan and Ewan and Rosealie (Ellie) Ellie was 2nd in her class, Euan was 4th in his and Rowan was only in the ridden class. She won the under 14hh class then went on to win the Overall Ridden and was Champion Ridden pony. In addition she was Overall reserve Champion....so all in all we had a very good day. Here are a couple of pics from the day.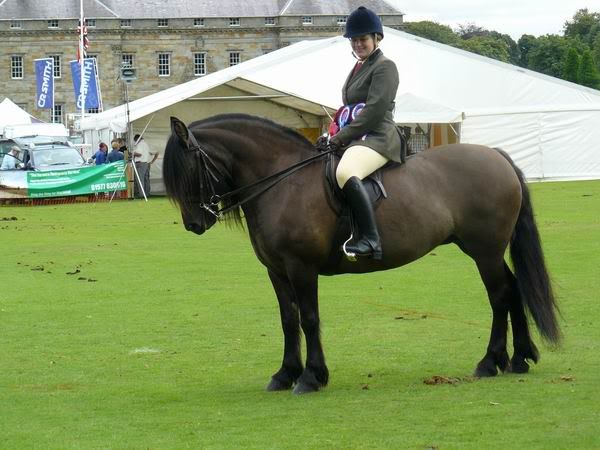 Rowan...Ridden Champion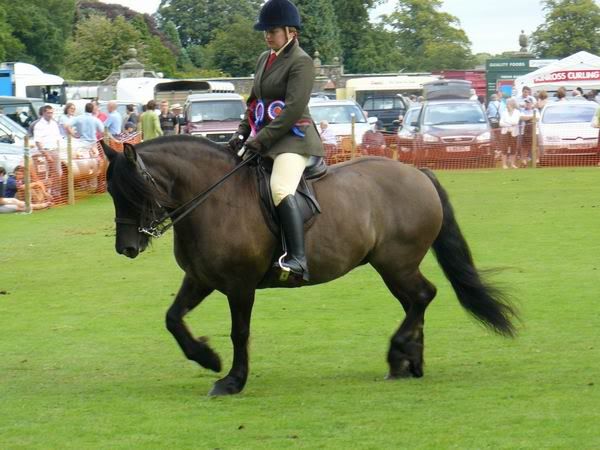 Rowan
Lucy on Rowan
Euan at Kinross

After Kinross, our next show was Blair Atholl. We had entered Rowan and Ewan but I decided we would have a peaceful day without Euan, who always gets a little uptight so we just took Rowan for the ridden class. She went very well and at first was pulled in 2nd to our delight. However, after her show she was pulled in 4th..still very good as she was in good company. We were pleased and relaxed for the rest of the day! Rowan had also qualified for the NPS In Hand as well as the Ridden on the Friday, but as we had had a decent day on the Thursday and also because the weather had deteriorated somewhat and the ground wasn't too good, we decided to go on the Friday by ourselves leaving Rowan peacefully grazing in her field!

Echo of Achnacarry, owned by Bruce Haliburton and ridden by Pam Brown had a very good day at Blair Atholl. He won the over 14hh class and then went on to be overall Ridden Champion thus qualifying for Olympia!! We were all over the moon and so pleased for Bruce, Bothie and Pam..........Yippee!!!!!!!!! Here are a couple of pics of Rowan and Echo.
Lisa and Rowan
Maggie Inglis (Judge) on Rowan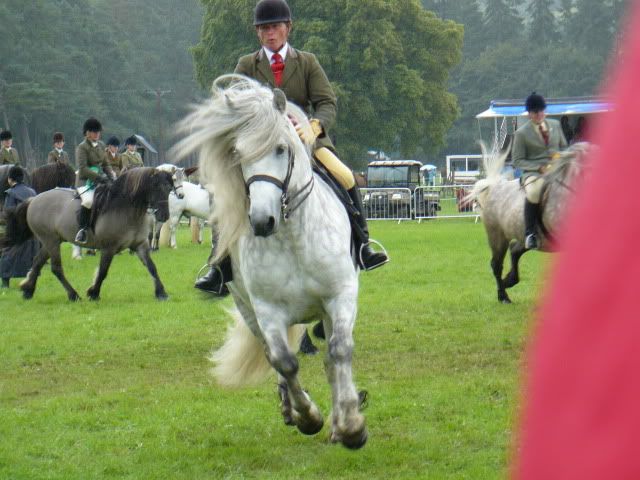 Echo of Achnacarry Ridden by Pam Brown Owned by Bruce Haliburton Qualified for Olympia 2009

Our 2nd last show was NESPHEC held at Duthie Park, Aberdeen and it actually turned out to be our last show as the Central Scotland HPC show was cancelled due to the wet weather. For Duthie we took Rannoch, our young stallion just to give him a little turn and he was shown there for us by Bruce. He was 3rd in his class and behaved very well. We were very pleased with him. He travelled very well and stood in the trailer for most of the day and was admired by many, and was spoilt with people passing by giving him sweeties!

Here is a pic of Bruce and him.
Rannoch & Bruce at NESPHEC 2009

The only other thing that I did which I enjoyed, and I believe Tim did too, was to attend a Western Clinic in Edinburgh. Our teacher was Bob Mayhew, well known in the Western circles. He is certainly a great character and I learned a lot that day. We took Euan and he was such a good boy behaving very well and travelled all by himself not uttering a squeek! Bob had him cantering in the round pen all by himself ..the idea being for Euan to give him his face and loosen up a bit before I got on him. We had a great time and the day before we had been across without Euan and had enjoyed a great meal with everyone. Thanks go to John and Margaret who ran the event and I shall definitely be going again next time Bob comes up. Here are a couple of pics of the day.
Euan Western
Euan relaxing
Euan in the round pen.

9th August 2009

Here I am again trying to get up to date!! I have now added pics of Rowan at the Royal Highland Show 2009, and you can see them below if you scroll down. I am about to add some of Rosealie..her half sister who is a year old and was 4th out of 21 entries at the Royal Highland Show so we really had a good show. I shall tag them onto Rowan's in hand pics along with a few ridden ones of Rowan the following day when, although she gave a very good account of herself she wasn't placed. Perhaps she was still recovering from her tremendous win the previous day!!!!!

After the Highland Show we had a few days!!! to rest before the next lot of shows. We were entered for Doune & Dunblane Show but decided that Rowan & Rosealie had deserved a well earned rest and decided that we needed a rest also. Our next shows were Kirriemuir and Kittockside on 18th and 19th July . Unfortunately for Kirriemuir Show the weather was very wet so they decided to cancel it on the morning of the show. Fortunately for us we had decided that we couldn't face getting up early twice so we decided that we would give Kirriemuir a miss and go only to Kittockside. We took Rosealie (Ellie) on her own to Kittockside and she travelled very well on her own, and after going round in ever decreasing circles we eventually found the show ground!! We had been before but not for a couple of years. It is a lovely site and it is not only Highland Ponies but Shetlands and Clydesdales that show there. Our Judge was Alan Baird and I was pleased to receive 2nd prize rosette. Ellie was a good girl and behaved very well so what more can you ask?!

I forgot to mention that in between Doune & Dunblane Show and Kittockside Tim and I and Sasha, our younger Schnauzer bitch went down to stay with Alison Payne in Yorkshire to enable us to visit a handsome young male dog to line Sasha.....and hopefully have puppies. More about that in Tiffany's Page once I update it!! After Kittockside we were off to Braco show..this time with Rowan but only for the ridden and Ellie again for in hand. Our Judge for the day was Bruce Haliburton for both classes. Once again, the entries were good and we were again delighted to win 2nd prize with Ellie. The ridden classes were well supported and Rowan was in good company, so we were pleased enough with our 5th prize....especially when it had been a long wait for her before the class. Here are a few pics of the day.
Rosealie of Achnacarry
Ellie
The Judge, Bruce Haliburton with Probation Judge, Lesley Jolly and Ellie
Willie Allan & Jennifer Allan with their prizewinning Filly Foal by Glenmuir Lochaber
Rowan & Lisa & others
Bruce Haliburton on Rowan

After Braco we had Perth the following week to which we decided to take Rannoch to....just for a change and because we had the offer of a handler in the shape of Bruce Haliburton. We also wanted to take Rowan so when Lisa suggested that they would take Rowan for us that solved the problem. Rowan went over to Glenfarg a few days earlier to give Lisa a chance to work with Rowan and we brought Rannoch up nearer the house so as I could groom him and remind him what a bit was for!! He was actually a very good boy and even although his visiting mares had just gone home a week or two before-hand he has settled down very well and has got used to us riding up past his field at close proximity.

On the Friday before the show it did take me quite a while to bath him as he was rather dirty!!! I ended up standing up on steps to rinse his mane out properly. However the deed was soon done and his mane and tail were soon platted up and even although it was pouring rain later on...he was fine the next day. I had decided he would be happier outside with Meg so just put an outdoor rug on him and he was dry and pretty clean the next day. He loaded and travelled well and was a good boy at the show . He behaved reasonably well in the ring and was awarded a 2nd prize. We were very pleased with him and grateful to Bruce for showing him for us. Rowan had arrived with the Gourdie family all spic and span. Lisa took her into the under 14hh class and although the ring was pretty soft with the previous night's rain Rowan coped very well and was rewarded with 1st prize. She went on to compete against the winner of the over 14hh class (Alison McLeod) and came out on top as Ridden Champion. Lisa was extremely pleased as she had always wanted to win the Inverdarroch Salver as she and her mother own Sally of Inverdarroch and had competed for the Trophy at Perth previously. All in all a great day for all of us.........Here are some photographs of our day.....
Getting ready with Rannoch.
Bruce practising with Rannoch
Bruce showing Rannoch
Anne Mitchell looking over Rannoch at Perth
Rannoch with his 2nd prize
Lisa & Rowan in the mud
Waiting to go into the Championship
The Championship
The Championship
Rowan & Lisa Ridden Champions
Rowan & Lisa Perth Show

That was Perth Show. Only Kinross to report on and that will be me almost up to date!! I have put on so many piccies I think my server will be telling me off and asking me to reduce them or archive some of our earlier years!!!

Anyway...Tiffany's page has to be updated after this but until the next time.......................

26th July 2009

Back again for a bit. I had updated up to handling Rosealie, our yearling filly who had a bit of attitude. We wanted to take her to Alyth Show but although she had been handled during the winter we had put her out in the field with the others from Spring onwards,. However to cut a long story short.....we managed to box her ......... eventually with the help of good friends then afterwards practised away with her and soon she was a wee star!

The day before Alyth Show I brought her inside and bathed her etc. then off we went the next day only with her. She was very good all by herself in the trailer and at times we would never have guessed that we had a pony in the trailer. She was pretty good in the class and certainly much better behaved than some! We were pulled in 3rd at first but on the final draw in she was 4th. However I knew I hadn't perhaps ran her out all that well due to the fact it was our first time in the ring and we hadn't had a lot of practise. So...all in all Tim and I were very pleased with ourselves. Here is a pic of myself and Ellie at Alyth.
Rosealie (Ellie) of Achnacarry Alyth Show 2009
Me trotting Ellie

Next is a pic of Rio of Inverdarroch who is by our Rannoch and out of Rowena of Inverdarroch. He is 2 years old and owned by Bruce Haliburton.
Rio of Inverdarroch by Rannoch of Achnacarry Out of Rowena of Inverdarroch
Burnside Victoria by Rannoch of Achnacarry out of Burnside Glencora

Champion was Sheamus of Inverdarroch owned by Irene Grant and bred by Bruce Haliburton. Sheamus went on to be overall Horse Champion.

So...at Alyth there were 3 x ponies all by Rannoch of Achnacarry!!!
Sheamus of Inverdarroch
Sheamus. The next week it was time to prepare for the Highland Show and I decided to wash Rowan and Rosealie at home then at least if they did get dirty they wouldn't need quite so much washing!...At least that was the theory!! It is always so much work to prepare ourselves, the ponies , the dogs etc. for the show and just trying to remember to take all the necessities is a big enough task! We had however a great show and little Rowan excelled herself by not only winning the Yeld Mare Ridden Class but went on to be Reserve Female Champion....an accolade which her Granny, Julie of Lundie won with me as a 3 year old in 1982. So it was all the more special and very emotional.
Rowan in the Championship at the Highland Show 2009 Photo curtesy of Sally Leslie-Melville.
Rowan amongst the prizewinners.

Next is the moment when Alvine was brought forward with her father's 3 year old filly, Tower Gypsy Meg to be Female Champion.
Female Champion belonging to James Hendrie shown by Alvine Kerr his daughter. Tower Gypsy Meg.

Next pic is when Rowan was brought forward to be Reserve Female Champion.
Rowan of Achnacarry Reserve Female Champion Royal Highland Show 2009
Rowan of Achnacarry

The next picture is of Tower Gypsy Meg and Rowan of Achnacarry Female Champion and Reserve Female Champion Highland Show 2009.
Tower Gypsy Meg & Rowan of Achnacarry

Last picture is of myself and Rowan sprinting in triumph round the ring!!!!
Rowan and I sprinting round the ring.

Finally a few pictures of Rowan's ridden day with Lisa Allison who rides her very well for us.
The Judge..Heather Prescott on Rowan
The lineup
Rowan in the ridden.

After my success with Rowan winning her Yeld Mare Class, I still had our yearling filly to show before the overall Championship. This was only Rosealie's 2nd show and a very big one at that! However, I needent have worried because she coped with it very well and after an initial placing of 7th...I was delighted to be pulled in to our final placing of 4th out of an entry of 21 yearlings!

Here are a few pics of Rosealie.
Rosealie of Achnacarry
Rosealie of Achnacarry
Rosealie of Achnacarry

17th July 2009

Here I am at last. I have been getting a lot of "stick" from various friends for not updating the website. One of the reasons is that I always like to put up the latest pics on it too. However I thought I would update it in words only at the moment, then come back and put on the piccies. Since my last update all Rannoch's foals have now been born and I will add the piccies later. In total he left 3 x fillies and 7 colts....not very even...but never mind. All the owners seem to be pleased with their babies so that's all that matters.

We, ourselves at last had our one and only foal expected this year. A filly! She was born on 11th May 3 weeks early and for a time looked rather premature..but she has filled out now and looks more like a May foal. Since the last update, we have been at a few shows.....Fife Show being the first one with Euan and Rowan. Both were probably not quite ready coat-wise and Euan was very excited about the whole affair and found it hard to keep all four feet on the ground sometimes!! Think we got a 4th and 5th in hand there. Rowan proved herself in the ridden class where she went very nicely and managed to get a 2nd prize. Our next show was West Fife to which we took the same two. It's amazing what a week or two does as this time they both looked much better coat- wise and although Euan was still very excited he actually behaved slightly better and was even drawn in 1st to begin with. However he danced around and generally wouldn't stand still. He ended up 3rd which I think was what he deserved!! Rowan on the other hand was a joy to show as always and was shining like a new pin. She won her class and went on to be Reserve In-Hand Champion. From there she went into the overall Mountain and Moorland and although complimented on her movement by a well known person didn't go any further. However Tim and I were pleased. Next she went into the ridden class again partnered by her jockey, Lisa Allison and they both gave a good account of herself. Once again, like last year she was 2nd in her class but unlike last year stayed that way. Last year she was Reserve Ridden Champion at West Fife. On 15th May...I took our younger Schnauzer to the Scottish Kennel Club Championship show at Ingliston where she was 3rd in a good class thus qualifying for Crufts in 2010! More about that in Tiffany's Page. On 30th May, it was Drymen Show which we always enjoy showing at, but once again this year it wasn;t to be as I had agreed to judge the Highland ponies at Strathbogie Farmers Club which was held at Faraway Riding Centre. This proved to be a very relaxed day and I thoroughly enjoyed judging the ponies. Tim and I were kindly put up with B&B in Huntly and we were exceptionally well looked after there. All in all a great couple of days away. Next day we went to Gardening in Scotland held at Ingliston and we spent rather a lot of money on plants and other tempting items!! We always enjoy this outing and usually meet like-minded friends there. The month of June was spent with me grooming dogs and Tim gardening. We missed the shows held the weekend of 13th June and decided instead to ride our ponies all of which need the exercise...especially Rowan who is to be ridden at a few shows again this year. I had entered Rowan, Euan and Rosealie our yearling filly for the Royal Highland Show and out of that we decided to take Rowan and Rosealie. First of all though we had to educate Rosealie!! Although well handled through the winter she had been out in the field with the other ponies since the Spring and hadn't had any work done with her as far as trailer loading went!! We had ONE week to get her ready for Alyth Show before the BIG one!!! I am off for my supper now.....more to follow......soon I hope!!!!

16 May 2009

I have added a few more new foal piccies below beside the other foals. Quite a way down this page!!

9th May 2009

As it is raining heavily we cannot ride and after drying out from walking the dogs I decided it was time to update a little.

We seemed to have been busy as usual and two weeks ago we had friends all the way from California visiting. Wendy Rowe and her friend, Lisa stayed with us for a few nights and also helped us with our Grass Sickness Ride. This happened on April 26th and we were delighted to have 31 riders along with countless helpers. This year we had opened it up to WES Members as we did last year but this year we had a good turnout of both WES and Central Scotland Highland Pony Club members so it was a super turnout. We collected £400 for Grass Sickness and hopefully once I get some photos from various friends who were on the ride I will be able to print them out on here. Unfortunately we didnt take any pony pics with our camera so the following one is one after the ride and shows people enjoying the Apres Grub!! We were grateful to all who brought home-baking and a big thank-you to all our helpers and riders.
"Yours truly" dishing out soup to all.

The weather was more or less kind to us and as usual, half of us went out on the longer ride and the other half with younger ponies or for those who just wanted to talk and walk and trot came on the other ride. As far as I know everyone thoroughly enjoyed themselves and so did the ponies!!

Please come again next year and contribute to this worth-while cause whilst enjoying the beautiful country-side which we are fortunate enough to be able to ride in whenever we like.

The yearlings have grown quite a bit and Rosealie (Ellie) is now in with the mares and Fionnalaigh who is in foal to Glenmuir Lochaber. Unfortunately this will be our only foal as Fhuaran decided she wasn't going to have a foal this year. She is a funny mare - in that whenever we send her away to Stud with a foal at foot she invariably doesn't have a foal the next year. Midge should also have had a foal by Tarka but must have decided she wanted a rest!! Mhairi and Corrie had the late foals so we didn't put them in foal for 2009. Hence we have only Fionnalaigh's foal to look forward to. She has been waxing up for days now but as she isn't due until at least 24th May...she has a bit to go yet!! I think she will produce early though.

Below is a photo of a pregnant Fionnalaigh along with Ellie & Midge, also some of the two small boys...as we call them!!
Fionnalaigh, Ellie & Midge
Rosealie of Achnacarry (Ellie)
Ellie
Ellie
Ellie & Friends
Torry & Fergie
Fergie Striding out
Torry striding.

Finally, Rosanna, Ellie's big sister is off to Stud this week to Kestrel of Glencree and I have been told she has been covered already! I thought it wouldn't take her long...so fingers crossed for a lovely foal next year.
Rosanna of Achnacarry

One day when I was feeding the gang in April I spotted a young stag in the ponies field, and although he saw myself and the ponies he still kept grazing. I tried to take a decent pic but this was the best I could get!
Rowan & Euan & young Stag He is often in our fields grazing. He is obviously on his own at the moment but I hope one day to spot him with his female friend. Below is a scene one evening when the full moon was out.....rather beautiful I thought!
Full Moon

The other news is that so far this year, Rannoch is the proud Sire of 4 colts and two fillies. I haven't had all the pictures of all the foals and there are still some in my camera but here are three pictures of his babies.

The first two are of Burnside Glencora and her colt foal and Burnside Hannah also with a colt foal. There is 3 weeks between the foals..Cora's being the older. The third one is of Endrig Mary with her filly foal just born in the past few days.
Colt foal belonging to Ann & Alastair Ballantyne by Rannoch X Burnside Glencora
Colt foal belonging to Ann & Alastair Ballantyne by Rannoch X Burnside Hannah
Filly foal belonging to Nik McKechnie by Rannoch X Endrig Mary

Also piccie of Tearlach of Achnacarry by Carlung Fergus, which his owner kindly sent us.

Here is a piccie of Janet Smith's filly foal born approx. 14th May
Roses filly foal belonging to Janet & Gordon Smith by Rannoch X Mountain Rose of Craigieloch
Kathryn Allan's colt foal by Rannoch out of Maggie May of Millfield
Kathryn's foal again
Jennifer Allan's filly foal by Rannoch out of Millfield Morning Mist
Jennifers foal again
"Teddy"
"Teddy"

The sun is now out and since I still have Tiffany's page to add a little to and also check the ponies before tea....I had better sign off for now!!

Until the next time........

15th April 2009

Thought I would update the site a little.

As always we seem to have been busy with lots of jobs needing done. Tim and I have managed to get out for a ride together though. We had a lovely ride last weekend for a couple of hours of Rowan and Xanthe. We were checking some of the tracks in preparation for our Annual ride which is happening on 26th April. This will be at least our 15th year and this year promises to be one of the biggest yet! I do hope the weather is kind to us as usual. The other thing I did recently was to attend another Western Clinic at Milnathort. It was very well attended and Euan was much more settled in his ride and seemed to be enjoyng himself. We practised backing up through poles and he excelled himself at his first attempt. However, after that everything went downhill and he stepped on the poles!! Xanthe was also there as a friend was horseless and they thoroughly enjoyed each other. Here are a few photographs of the day.
Euan & I trotting
Euan & I backing up through the poles
Getting there!!
Euan & I Xanthe & Gillian
Xanthe & Gillian
Xanthe & Euan

28th March 2009

Back again for more updating.

I was awful pleased with myself a couple of days ago when eventually I managed to pick up our cheery yearling filly's hind foot at long last without her trying to cow-kick me!!! All the yearlings are loosing their foal coats and there will be enough hair lying around to house all the birds' nests in Glassart Glen!! Today and yesterday it is bitterly cold and I decided to continue updating the web site in the relative warmth of our house. First of all before I go any further I would like to extend our sympathy to our friend, Ellie Douglas who lost her Mum on Tuesday 24th March after a long illness bravely bourne. Although Tim and I had only met and chatted to Ellie's Mum a handful of times we always found her to be a very positive and cheerful person, and she will be sadly missed I am sure. At the time of writing, I am aware that I MUST complete my Highland Show forms if I am intending to go and show. I must admit that for once I almost decided not to go because of the inhibitive cost of entering the ponies, our caravan, parking tickets for trailer and our friend's car. Also by the time we buy hay and then pay for our food whilst there for the 5 days I will be a lot poorer!! Perhaps because I was judging there last year, it seems worse because I only had to fork out the ridden pony's entry which was minimal. Anyway, after a lot of soul searching we have decided to go....but I don't know for how much longer. It seems such a shame but I feel it will soon be pricing itself out of the "normal" person's pocket. Anyway...hopefully once this cold spell has gone we will have foals to look forward to.....only two this year. There should have been three, but Midge decided she wanted some time off!! So....Fhuaran first at beginning of May and Fionnalaigh with her first born around beginning of June. I hope to sell the two colts from last year to good approved homes eventually. They had been booked to be castrated a week ago but had a reprieve as I had someone enquiring after them......so watch this space.............!!! Talking about colts..here are one or two pictures of our youngest one that both Tim and I are fond of. He is very eye catching in the field with stunning paces and full of his own importance! However he is a good boy to handle and lead in and out from the barn to the field. I need to work some more on his feet picking up habbits though!
Torranach with his mother & friends
Torry in full gallop first day out
Torry & "Aunty Midge"
Wendy Rowe our American friend with Mhairi and myself with Torry

Another one of myself and Euan.
Euan of Achnacarry

The other creatures we both love are our garden birds and we often have quite an array in the garden. We have Goldfinches,blue tits, long tailed tits, coal tits,sparrows,wood-peckers,hen and cock Pheasants by the hundreds!!....Robins, Blackbirds, crows (ugh!) Magpies (horrors!), Chaffinches. In the forest we also have Jays which we see now and then. Here is a picture of our Goldfinches feeding on the Niger Seed and Peanuts.
Our Goldfinches

I think that is about all at the moment....just wishing it would hurry up and heat up a bit. Next Sunday, 5th April Euan and I are going along to Milnathort to a Western Clinic to further both our education so looking forward to that. Will probably take Rosie too for the experience in hand and to mix with other ponies. We also mean to start training the yearlings to go in to the trailer. We start by putting the trailer inside the barn and leaving the front and back doors down to enable them to walk in and out...hopefully eating up the treats we put down on the floor. Eventually they go in and out quite cheerfully.....at least that's the theory!!!

Already the first Spring shows are being planned but we will give them a miss. Our ponies' coats will not be quite ready for these early shows, but hopefully we will be at Fife Show this year...first time in a long time as it often clashes with my other love...Dog Showing.....but this year the SKC is on a different day. Other years we have missed Fife Show because of the cold Spring and our ponies' coats have just not looked right. Anyway enough of my blethers....time to sign off and go and feed ponies. Also just to add that I have added some more pictures of Torranach to the Sales list and will also add some of Fergie once the wind abates and the sun comes out. Another addition is I am sure people know that we stand our Junior Stallion at stud to approved mares only. Once again he will be available this year to a limited amount of mares so....please if you are fancying using Rannoch....do not leave it to the last minute to phone to book them in. Here is a snowy piccie of himself!!
Rannoch in the snow..Jan.2009 Until the next time............

24th March 2009

What have we been up to? Not a lot since the beginning of the year other than mucking out yearlings, grooming yearlings and teaching them to pick up their feet! Two are better than the third one who doesn't want to keep his foot up. However I am working on him. With the other two I can now pick out their front feet easily but they are still wondering how they can stand on 3 legs when it comes to their back feet!

Of course when the weather has been warmish and dry we have been trying to keep the ridden ponies reasonably exercised. Tim is doing well and has ridden both Xanthe and Rowan without any problems. I have been trying to ride Rowan to get her fit for the showing season as well as trying to ride Euan. Of course we have had a lot more snow in 2008 and at the beginning of 2009. Below is a photo of Rannoch taken from our bedroom window one snowy morning.
Rannoch
Rannoch

The next one is of myself, Brenda and Louis riding the ponies taken as always by Tim who almost always insists on a photo stop before we go out anywhere!!
Myself Louis & Brenda

23rd March 2009

Just to say I have started updating at last!!

I have updated Tiffany's page so that's a start. I have to put on a few new piccies of the two colts we have for sale and also update this page. However time to go and feed ponies etc as it is getting near that time. At least because it is so windy today it made me stay inside and start this!!!

12th February 2009

Just to say we are up and running again so shall update shortly. Also have added our two colt foals that we have for sale on to our Sales Page. Once the weather improves I shall put more up to date pictures on .

3rd February 2009

Having problems again....testing!!!!

5th January 2009

Happy New Year to all our readers and many more of them.

I am trying to finish all the 2008 news so as Tim can sort out the site and get us up a new page for 2009. After the NPS show we had the Winter Fair on 22nd November and once again we took Rosanna, our 3 year old. The entries were up on last year all except our class but not to worry.....we were 1st and Rosie was a good girl so that was all that mattered. Champion was Charlie McQuattie's yearling filly and Reserve was Jimmy Hendrie's filly foal, Tower Ceilidh. Here are a couple of piccies of Rosie and one of Charlie's filly.
Rosanna of Achnacarry by Tarka of Orangefield out of Midge of Achnacarry
Trotting Rosie..Winter Fair
Ailsa of Strathmore By Strathmore Concorde Out of Iona of Strathmore

The only other thing that was interesting was, I took Euan to his first ridden Western Clinic and he excelled himself by behaving very well and he picked up things so easily. Of course I had taken him to several of these same clinics in hand and we practised with him then, so he was used to some of it. Now there will be no stopping us in 2009... at least that is the plan!! Here are some photos of him the first time we put the saddle on him and a few others of the clinic.
Euan with his western saddle 1st time
Leading Euan
Me on Board Euan
Riding in the Yard
At the Clinic
Me & Euan at the Western Clinic

That is about all our news for 2008. The last thing we did for 2008 was to wean the two oldest foals and they are now settled quite happily in the barn. They have Mhairi and her young foal for company during the night as we bring them in at night as well as the company of the other ponies who come into the barn twice a day for their hay...so the foals are not short of company which I think is important. It will give me time to handle the pair of them and practise for the shows in 2009.

Here are a few earlier photos of Fergie with Mhairi's foal..taken by my mobile phone ..so not up to our usual standard!
Fergie & Torranach..Oct 1st
Fergie
Torranach
Midge of Achnacarry

Another mobile phone piccie...this one is of our lazy filly foal sucking from her lazy mother who was lying down!! Another photo of the mares and foals and another of Fergie.
Rosealie stealing some milk!!
Mares & Foals in October 2008.
fergie

Last of all some of my favourite piccies. One of a lovely bridge on our way to Nairn Show and one of Tim in front of it also. Also some of Eros of Achnacarry who obviously has a great home and is well looked after. I have also put up a couple of his offspring, and the last one is of winter in November......
The Bridge
Tim & The Bridge
Eros of Achnacarry by MacGregor of Achnacarry out of Corrie Bheag of Achnacarry
Eros
An Eros baby
Eros Babies
Midge & Rosealie & Corrie

That is the end of 2008.....I think!!!

Just a few others I wanted to put on.......
This handsome chappie frequents our garden along with his four wives!! They pinch all the wee birds seed when it falls out of their feeders. We could pop him off but he has become very friendly and one of his wives was in the barn the other day...so unless a cat catches them they will be safe here!
The next photos are of Mhairi and her foal who is now 5 months old today. These photos were taken back either the end of November or beginning of December. He is a very smart foal and although I would love to keep him he will be for sale sometime but I shall keep a hold of him until he catches up with the rest unless someone wants him earlier than that. The rest of the photos are some snow scenes and of course the best ones are of Tim on Xanthe with Teal looking as usual for a titbit!! Tim is going from strength to strenght since he has had his new hips....riding..climbing ladders..and catching up with all sorts of jobs.....Great!!!!
Torranach & Mhairi
Torry
Torry
Xanthe & Tim & Teal
Xanthe & Tim & Teal
Rosie at the WES Clinic
Fergie by Rannoch out of Fhuaran of Orangefield Fergie will also be for sale and eventually I shall put some decent pictures on our sales page. He is a poppet...very good natured and well handled.
Fionnalaigh of Achnacarry
Corrie Bheag of Achnacarry
Rannoch
Rannoch
Ponies in the snow

Until the next time.........